Doha, 18 March 2010 – The triennial general assembly of the Convention on International Trade in Endangered Species of Wild Fauna and Flora (CITES) reached a climax today when governments rejected by vote trade bans for polar bears and bluefin tuna.
This morning the polar bear proposal was rejected by a majority of Governments, led by Canada (62 votes against, 48 in favour, 11 abstentions). They recognized the traditional knowledge of indigenous peoples living in the harsh conditions of the Arctic sea and the role of polar bears in their culture and economy. "We do not have trees, we do not have plants to cultivate, we only have the polar bears", said a representative of the Inuvialuit hunters present at the meeting. They were not convinced about the conservation benefits of banning trade in these species already included in CITES Appendix II.
Polar bears exist entirely in the circumpolar Arctic sea ice environment within five range States: Canada, Denmark (Greenland), Norway, Russian Federation, and the United States. According to the defeated proposal, the combined threats of the decrease in polar bear habitat – sea ice – and other potential threats, including utilization and trade, disease or predation, contaminants, might endanger the species. The proposal sought to ensure that primarily commercial trade does not compound the threats posed to the species by loss of habitat.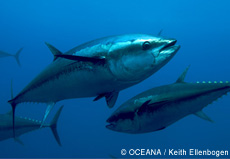 In the afternoon, the main course of the CITES Conference was on the table. Monaco introduced its proposal to ban trade in bluefin tuna, followed immediately by the European Union which suggested an amendment to delay the entry into force of the ban until May 2011. Japan, Canada and several members States of the Arab league opposed the proposal arguing that regional fisheries management organisations (RFMOs) as ICCAT were best placed to tackle the decline of bluefin tuna stocks. They added that an Appendix I listing would not stop the fishing of the species. After a passionate but relatively short debate, the representative of Libya requested to close the deliberations and go for a vote. Iceland called for a secret ballot. The amendment introduced by the European Union and Monaco's proposal were defeated (20 votes in favour, 68 against, 30 abstentions) in the middle of much confusion about the voting procedures and mixed feelings of satisfaction and frustration from participants.
During a press conference at the end of the day, the head of the Japanese delegation, Mr Masanori Miyahara, Ambassador Patrick Van Klaveren from Monaco and Mohamed Saeed Al-Mohannadi from Qatar recognized that the bluefin tuna stocks are depleted and jointly declared that now is time for ICCAT to be effective. The Secretary-General of CITES, Mr Willem Wijnstekers, offered to cooperate to ensure compliance without delay of the required conservation measures.
Note to journalists: For more information, contact Juan Carlos Vasquez at +974-4175621 or +974-5692804 (cell), or
[email protected]