For use of the media only;
not an official document.
PRESS RELEASE
CITES incentives inspire vital reforms in wildlife management
Falcons, sturgeon, corals and other at-risk species to benefit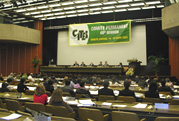 Geneva, 15 March 2002 - Trade suspensions and other incentives have succeeded in spurring the United Arab Emirates, the Russian Federation, Fiji, Vietnam and other governments to move towards more effective and sustainable management systems for a number of endangered species that offer economic benefits to poor communities.
A Standing Committee meeting on the Convention on International Trade in Endangered Species of Wild Fauna and Flora (CITES) has agreed here today to lift or modify imposed trade measures in response to pledges by governments to reform their wildlife management and trade practices.
Responding to pledges of reform by the United Arab Emirates (UAE) government, the CITES Standing Committee has agreed to withdraw in three phases its earlier recommendation to suspend trade with the country. First, trade for non-commercial purposes other than movements of live birds of prey will be permitted immediately. Second, the prohibition on cross-border movements of live falcons for non-commercial purposes will be withdrawn when a domestic registry of the birds and their owners is completed and confirmed by the Secretariat. Third, commercial trade in CITES wildlife will remain suspended but will be reconsidered when the Standing Committee meets again next November and reviews the situation.
"As this week has demonstrated, the CITES regime is effective because we can create powerful incentives for motivating governments to follow the rules and cooperate with one another," said Kenneth Stansell, Chairman of the Standing Committee. "CITES is an invaluable instrument for promoting the conservation and sustainable management of wild plants and animals."
Another example of how effective trade restrictions can be was seen last week, when the CITES Secretariat approved new quotas for caviar and sturgeon meat exports from the Caspian Sea. However, while recognizing that the five Caspian States had met the requirements for continuing the caviar trade by establishing the first-ever unified system for surveying and managing sturgeon stocks, the Secretariat also pointed out that illegal harvesting and unregulated domestic consumption continue to threaten the long-term survival of Caspian Sea sturgeon species.
During the Standing Committee meeting, the Russian Federation responded to this concern and to a Secretariat report on enforcement needs by pledging to regulate all stages of caviar production, from harvesting to packing; to establish quotas for domestic markets; to require that all caviar containers used in the domestic market are made domestically in order to demonstrate legal origin; and to license all domestic sales of caviar.
"These steps are vital to Russia's battle against dealers in illegal caviar. I welcome the Government's very positive response to our report's recommendations," said Willem Wijnstekers, Secretary-General of CITES.
The Committee also considered the case of four other states that had earlier been given a 31 December 2001 deadline for adopting national legislation on endangered wildlife trade. Any country failing to comply would be subject to a complete suspension of all CITES-related trade.
Fiji, a major exporter of coral, missed the deadline and had its trade suspended. The Committee agreed to lift the suspension, however, in response to Fiji's pledge to table national CITES legislation at its next parliamentary session in June 2002 and to have this legislation enacted before end-2002. Fiji will also set trade quotas for coral species at 50% of last year's exports.
Fiji will also introduce a plan of action to address the unsustainable levels of coral harvesting and export. It will not authorize exports until the 2002 quota is formally put into effect, it will copy all export permits to the Secretariat, it will ensure that all export permits are issued only by the authorized national CITES Management Authority. If Fiji fails to enact effective legislation by 31 December 2002, the Secretariat will notify all Parties that all CITES trade is once again suspended.
Vietnam, a country rich in wildlife resources, also saw all of its CITES trade suspended when it missed the end-December 2001 deadline for enacting legislation. However, the legislation was in force by mid-February 2002 and the trade suspension has now been lifted. Turkey adopted adequate legislation and its trade was therefore not suspended; a key issue for Turkey is the transhipment of illegal caviar.
All CITES trade with Yemen, on the other hand, remains suspended until further notice. CITES will work closely with the government to help it develop legislation and train enforcement officers.
The 12-15 March Standing Committee also decided to ensure more transparency in its procedures by permitting the participation in its deliberations of non-governmental organizations (NGOs). The Standing Committee also discussed preparations for the 12th Meeting of the Conference of the Parties to CITES, to be held in Santiago, Chile from 3 -15 November 2002.
Around the world, many species of plants and animals have become endangered because of habitat destruction, pollution, unsustainable trade, and other forces. CITES was adopted in 1973 to ensure the long-term survival of any species that are potentially threatened by international trade. Its 157 member governments strictly regulate international trade in threatened wild animals or plants via an Appendix II listing and prohibit international commercial trade in species threatened with extinction via inclusion in Appendix I.
Note to journalists: For more information, contact Michael Williams at +41-79-409-1528 (cell), +41-22-917-8242 (office), or [email protected]. See also www.cites.org.