For use of the media only;
not an official document.
PRESS RELEASE
100 days until UN World Wildlife Day 2018
"Big cats: predators under threat" announced as the slogan
Geneva, 24 November 2017:  The countdown to next year's World Wildlife Day (WWD) kicks off today, 100 days before 3 March 2018. This special day in the UN calendar will be celebrated next year under the theme of big cats. "Big cats: predators under threat" is the slogan announced today by CITES Secretariat, the UN General Assembly designated facilitator of this global event.
"UN World Wildlife Day 2018 will feature a star-studded cast - cheetah, clouded leopard, jaguar, leopard, lion, puma, snow leopard, tiger. These most majestic predators on our planet are facing many and varied threats, primarily caused by human activities, be it habitat loss, poaching, human-wildlife conflict or climate change", said CITES Secretary-General, John E. Scanlon.
"'Predators under threat' imparts the pressing need for international, national and personal actions to ensure the survival of all big cat species. Challenges arising from human activities must be resolved by people. At a time when a crisis can still be averted, it is essential to take action now", added Scanlon.
The CITES Secretariat is working with partners in the United Nations system, member States and leading non-governmental organizations, including those specialized in big cats conservation to organize a high level event at the UN Headquarters on 2 March to observe World Wildlife Day 2018.
We are delighted to welcome African Parks, Panthera and the World Association of Zoos and Aquariums as our new partners to observe World Wildlife Day, together with our partners from previous years.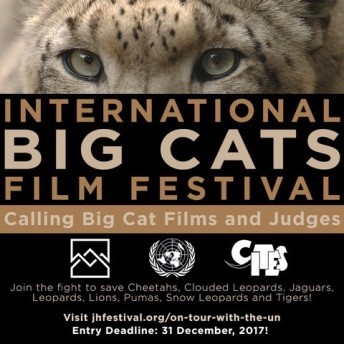 The CITES Secretariat is co-organizing an International Big Cats Film Festival with Jackson Wildlife Film Festival. The aim is to galvanize the power of media to inspire wonder, catalyze change and move the dial on the conservation of big cats. Wildlife movie makers around the world are invited to submit their inspiring works before 31 December 2017 (Click here to find more information about the festival and to submit your films).
The CITES Secretariat will release new update on trends of illegal killing of elephants for 2017 on 3 March 2018.
The UN Postal Administration will issue 12 stamps on 3 March showing species of wild animals and plants included in CITES Appendices in the past 25 years to mark the 25th edition of the United Nations Endangered Species always featuring CITES-listed species.
The WWD logo remains the same and it is available, and free to use, in the six UN languages from the WWD website. Graphic materials to illustrate the theme will be made available at a later stage.
In line with the UN General Assembly resolution, the CITES Secretariat reaches out to all member States and organizations of the United Nations system and other global, regional and sub-regional organizations, non-governmental organizations and all interested individuals, to:
observe and raise awareness of theme for WWD2016 in an appropriate manner;
to associate WWD celebrations to major national and international conservation events, where appropriate;
to organize campaigns to reduce the demand for illegal wildlife and their products using targeted strategies in order to influence consumer behavior;
and to make use of the WWD logo as widely as possible.
The main hashtags for WWD 2018 are:
#BigCats
#PredatorsUnderThreat
#WWD2018
#WorldWildlifeDay
See also:
Note to editors:
For more information and to arrange interviews, please contact Liu Yuan at +41 22 917 8130 or [email protected]
About CITES
CITES stands for Convention on International Trade in Endangered Species of Wild Fauna and Flora. It was signed in Washington D.C. on 3 March 1973 and entered into force on 1 July 1975. With 183 Parties (182 countries and the European Union), the Convention remains today one of the world's most powerful tools for wildlife conservation.
CITES regulates international trade in over 35,000 species of plants and animals, including their parts and derivatives, to ensure their survival in the wild with benefits for the livelihoods of rural communities and the global environment. The CITES permit system seeks to ensure that international trade in listed species is sustainable, legal and traceable.
Learn more about CITES by visiting www.cites.org or connecting to: