Debriefing of Thunderball and Operation Demeter V
Opening remarks of CITES Secretary-General Ivonne Higuero
26 November 2019, Shenzhen, China
Your Excellency Mr Ni Yuefeng, Minister for China Customs
Your Excellency Mr Zhuang Guotai,, Vice Minister of Ecology and Environment
Your Excellency Mr Li Chunliang, Vice Administrator of the National Forestry and Grassland Administration
Mr Yang Hong, member of the Standing Committee of CPC of Shenzhen
Mr Kunio Mikuriya, Secretary General of the World Customs Organization,
Excellencies, special guests, ladies and gentlemen,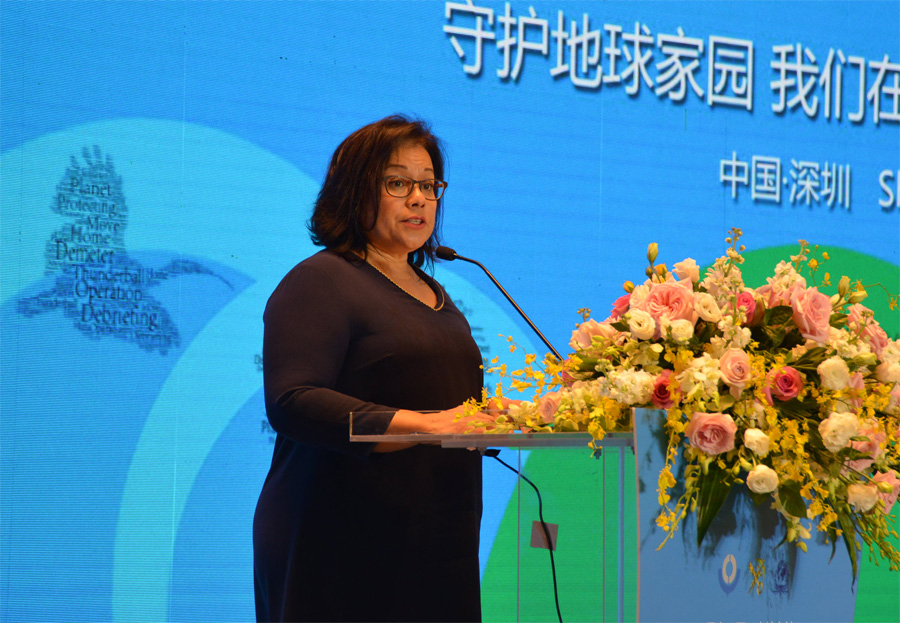 I am very grateful to the Government of China and the World Customs Organisation for inviting me to this debriefing of Operations THUNDERBALL and DEMETER 5. It is indeed an honor to be here and I am so pleased to note the excellent cooperation of the CITES Secretariat with the Chinese government and the WCO.
We are all aware of the recent global assessment of the IPBES warning us about the risk of record extinctions. I recently concluded my first Conference of the Parties as Secretary-General, echoing the call for "humanity to respond to the growing extinction crisis by transforming the way we manage the world's wild animals and plants" and that "Business as usual is no longer an option".
This means that combatting environmental crime, including crime involving illegal trade of wild fauna and flora, has never been more important. We should all be encouraged that wildlife crime has now gained global recognition as a serious crime.
Wildlife crime threatens our values, our governance structures, and the rule of law. The illegal trade in wildlife undermines the legal and sustainable trade in wildlife and forest products, for which the Convention on International Trade in Endangered Species of Wild Fauna and Flora, or CITES as most of you will know it, was set up in 1973.
Trading legally through CITES contributes to many developing economies, supports local communities and their livelihoods, conserves wild species of fauna and flora and, ultimately, helps achieve the Sustainable Development Goals.
The trend of ever-expanding Appendices under the Convention reflects growth in both demand and human populations. There are an increasing number of species for which trade needs to be regulated to avoid over-exploitation. It shows the growing value of CITES as the regulator of international trade in wild animals and plants; but also means that Customs and Enforcement agencies will have a very challenging role trying to regulate the legal trade of over 36,000 species. However, I am convinced that, by working together, we are able to respond to this challenge.
The three-pronged approach that CITES takes to tackling wildlife crime includes reducing demand for illegally acquired wildlife, demonstrating the benefits of well-managed legal trade, and strengthening law-enforcement efforts.
I have highlighted many times that the role of Customs in supporting the Convention is critical. A Customs officer is usually the first, and sometimes the only, level of inspection of shipments containing CITESspecimens. In verifying that trade is in accordance with CITES provisions, and detecting fraud and illegal trade where it occurs, Customs officers are our first line of defense.                                                                                             
Criminals, and often transnational criminals, are stealing natural resources from people around the world. We must protect both wildlife and people, working collaboratively to bring the criminals involved to justice.
And to do this we are working through the International Consortium on Combating Wildlife Crime (ICCWC).  In 2010, CITES, INTERPOL, the UN Office on Drugs and Crime, the World Bank and the World Customs Organization joined forces to provide coordinated support at national and regional levels for the fight against wildlife crime. This Consortium continues to deliver well-targeted support to countries on how to deploy the same tools and techniques used to combat other serious crimes.
The work carried out under Operation Thunderball, coordinated by INTERPOL and WCO under the auspices of ICCWC, exemplifies the response we need – cross-border and international cooperation, communication, and coordination, since so much of what we are facing is transboundary crime.
Throughout the Operation, customs and police officers, supported by environmental authorities, wildlife and forestry agencies, border agencies and CITES management authorities, worked closely together. They identified and intercepted shipments containing wild species protected and regulated under the Convention.
Your commitment and example have put our 45-year-old Convention on a much stronger footing for the future. You, as Customs and enforcement officials have supported the implementation of CITES globally by combating the illegal trade in wildlife and forest products through this Operation. Your collective efforts are the reason why Operation Thunderball has been such a success.
At the recent 18th Conference of the Parties to CITES held in Geneva in August 2019), Parties discussed 57 listing proposals and 140 working documents on a broad variety of issues. 46 proposals to amend the Appendices were adopted, as well as 8 new and 26 revised Resolutions, and 353 Decisions. This included a large number of Decisions to enhance our collective efforts to combat wildlife crime. In particular, there was recognition of the excellent progress made by ICCWC to assist Parties in combatting wildlife crime, an emphasis on making use of tools available to combat wildlife crime and corruption, and wildlife crime linked to the Internet. The Resolutions adopted show us the way forward and it is imperative for concerted efforts to ensure they are implemented.
Looking ahead there are a number of key issues we should continue to focus on, most of which were emphasized at CoP18:  
Firstly, we must not forget that the benefits of trade that is legal, sustainable and traceable are clear. Wildlife can have the power to lift local people out of poverty in a manner that will be mutually beneficial and self-sustaining. 
Secondly, we need to continue with our collective efforts to tackle demand and supply for illegally traded products. We must work across the entire illegal wildlife trade chain, and we need to bring on board the agencies at international and national level that are mandated, trained and resourced to deal with transnational crimes.
Thirdly, iconic species tend to get most of the attention but there are major threats against lesser known animal and plant species. European eels and medicinal plants are examples — and equal attention should be paid to these species. Illegal trade in timber is, for example, an issue that requires our collective efforts and I encourage you to consider this and other species when planning future activities and operations. In particular, the Secretariat will be convening a Task Force on illegal trade in specimens of CITES-listed tree species. The aim is to develop strategies to combat illegal trade in timber and further strengthen regional and international cooperation.  
The World Bank recently reported the global cost of illegal trade in fisheries, wildlife and forest products to be around 1-2 trillion US dollars per year.  For the sake of future generations and the world we live in, it is vital that we stop criminals from putting livelihoods, security, economies and the sustainability of our planet at risk by illegally exploiting wild fauna and flora.
Excellencies, Ladies and Gentlemen. I thank you for your commitment and dedication to combat wildlife crime. I have no doubt that this work will continue and that you are inspiring others. 
Congratulations once again to all involved, and in particular to our ICCWC partners, INTERPOL and WCO, for their outstanding efforts to coordinate this exceptional initiative.
THANK YOU!