Consultative meeting held to address illegal trade in falcon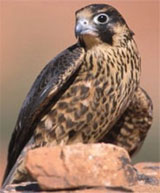 Within the conservation community, there has for many years been concern about illegal and unsustainable trade in falcons for falconry. Despite the fact that all species of falcons have been included in the CITES Appendices, this illicit international trade has been continuing, a significant proportion of which involves countries in the Arabian Peninsula where there is a strong falconry tradition.
In order to address a number of problems in controlling the international trade in falcons for falconry, a consultative meeting on trade in falcons for falconry was held in Abu Dhabi, the United Arab Emirates from 16 to 19 May 2004.
The meeting was attended by representatives of the following Parties, non-Party and observer organizations: Canada, the Czech Republic, Egypt, Germany, Hungary, Jordan, Kazakhstan, Kuwait, Mongolia, Pakistan, Qatar, the Russian Federation, Saudi Arabia, Tunisia, the United Arab Emirates, the United Kingdom of Great Britain and Northern Ireland, Turkmenistan, Birdlife International, Greifvogelzuchtverband and the International Association for Falconry.
The aims of the consultative meeting was to identify the main problems in controlling the trade in falcons for falconry (political, administrative, technical, scientific, enforcement) and to propose practical solutions to these problems and in the mean time to provide an opportunity for an improved understanding internationally of the trade-related problems facing falcon conservation.
During the meeting, delegates recognized the long tradition of falconry in the Gulf States and the efforts being made by many countries to ensure that the use of falcons for falconry is conducted in a sustainable manner and believed that it was important to develop and expand further such efforts, in all States of import, export, re-export and transit. To this end, a range of specific subjects were brought to the table, including the establishment and management of catch and export quotas, enforcement, awareness-raising and training, use of certificates of ownership (including falcon passports), captive-breeding, marking, etc. Outcomes of the discussions on these issues are summarized in the summary report.
At the meeting, delegates noted that Birdlife International, as the listing authority for birds on the IUCN Red List had found that the Saker falcon now qualifies for threatened status with the category Endangered, owing to the high rate of overall decline in the recent past.
As a result of the contacts made during the consultative meeting, attempts will be made to establish a European action plan for the conservation of Falco cherrug.
At the request of the delegates, the summary record of their discussions will be provided at the 51st meeting of the Standing Committee.
Click here to see the summary report of the meeting in PDF format.