Doha, 13 March 2010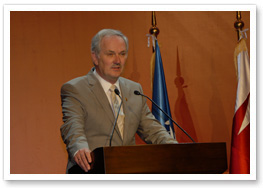 Your Excellencies, distinguished guests, ladies and gentlemen, dear friends,
I am sure to also speak on behalf of the wider CITES community gathered for the coming two weeks in this great capital of the beautiful State of Qatar, when I express our sincere gratitude to the Government and the people of Qatar for hosting this meeting. The organization of an event of this size requires the investment of important financial and human resources. To make such investments is a clear sign of the importance the State of Qatar attaches to the conservation of wild fauna and flora.
This meeting is indeed an important one for the conservation of the world's wild animals and plants and as such it is a perfect vehicle for raising public awareness in this part of the world of global nature conservation issues. It enables non-governmental organizations and the media from Qatar and from all over the region to follow events more closely than ever. This is greatly enhanced by the generosity of the government of Qatar in providing interpretation into and from Arabic. Although the undoubtedly important side effects of a meeting like this are difficult to measure, the resources invested in conservation by hosting the meeting will undoubtedly come back to the State of Qatar, the peninsula and the whole Middle East, both during the meeting and for a long time thereafter.
I should also like to warmly thank the Government of the State of Qatar and the many other donors of our sponsored delegates project for their generous financial contributions. As a result, participants from a great many developing countries will attend the meeting.
Ladies and gentlemen, in July of this year, the Convention will have been in force for 35 years. Over these years, it has become the Convention with the most direct impact on species conservation and I say without hesitation that, as a result, it is the most successful agreement in the area of biodiversity. That partly explains the enormous interest of Parties, inter-governmental and nongovernmental organizations and the media in the discussions that will take place in the coming weeks. The fact that, yet again, several proposals before us are subject to a wide variety of differing opinions and convictions is of course also responsible for this high level of interest. The first skirmishes have already taken place in the media and I am well aware of the fact that the stakes for many of you are high. I said something similar ten years ago in my opening speech at CoP 11, which clearly shows that CITES has not lost any of its importance and influence over the years, to the contrary. At my first CoP as Secretary-General in 2000, the Convention had 150 Parties. Today, at my last CoP in that function, 175 countries are implementing CITES and a number of countries is about to join. This brings the Convention close to one of my personal goals and to that of the Parties: full global membership.

Ladies and gentlemen, this is 2010, the international year of biodiversity, the year by which we should have significantly reduced the loss of biodiversity. I am led to believe that we didn't, but I firmly believe that CITES did pull its weight and did contribute in a major way to achieving the overall goal of reducing biodiversity loss and continues to do so with proven success, by making international trade in a great many species legal and sustainable.
In the pursuit of global biodiversity goals, there clearly is greater scope for synergies, for joining the forces of the different biodiversity related Conventions. In my view that can only be brought about, however, when Parties to these Conventions adopt similar aims and priorities and decide compatible, complementary policies under the different mandates of each of these Conventions. Where there is common ground for action, synergies follow automatically, as CITES and the Convention on Migratory Species have clearly shown through the adoption of common programs of work for shared species.
An area where we continue to have quite some work to do is that of simplification. We need to better demonstrate to CITES Parties, to stakeholders and to the general public that CITES is not an unnecessary administrative burden, but that it has visible benefits for species conservation, sustainable trade, livelihoods, poverty reduction and sustainable development.
There still is enormous scope for reducing the complications we created together over time and laid down in hundreds of Resolutions and Decisions, which may have been necessary at the time of their adoption, but many of which I believe have become redundant. Without unnecessary red tape, CITES can remain to be the powerful instrument that is, on the one hand, capable of enforcing a relatively low number of necessary and democratically agreed international trade bans in certain endangered species and, on the other hand, provides a flexible multilateral tool to ensure the legality, sustainability and traceability of international trade in a great many species of wild animals and plants. Today, simplification is more than ever a necessity in view of the unfortunately ever decreasing resources that are available to national CITES authorities and to the Secretariat. I therefore call on you to think carefully about the cost of the measures we have taken in the past, the cost of those we intend to take in the coming weeks and the benefit these decisions have or may not have for wildlife conservation. There is enormous scope for making things simpler and cheaper and in doing so I believe we can dramatically facilitate your work and that of the Secretariat and at the same time increase the effectiveness of the Convention, particularly in and for developing wildlife producer countries.
Talking about resources brings me to another important element of past opening speeches. What I said about the budget at CoP 12 in 2002 is unfortunately now more applicable than ever. Once more there is reason for serious concern because of the growing gap between the increasing number of activities and results that Parties and others expect from CITES and it's Secretariat and the means that are made available to meet these expectations. Isn't it worrying to the CITES community that in 2010 the Convention has 25 Parties more than in 2000 but that the Secretariat has less staff in 2010 than it had back in 2000? This question and other issues make budgetary matters in my view again one of the most important issues before this meeting of the Conference of the Parties. Decisions on the budget will really show how serious we take the conservation of wild fauna and flora. Decisions on the budget will really show how serious we take this Convention and the role it will be able to play in future for the conservation and management of wildlife. Really worrying in this context are comments I have seen that CITES should not get involved in commercial fish species like blue fin tuna because the Secretariat does not have the capacity to deal with such species. I of course totally disagree with that comment, but does this mean that to weaken the Secretariat is considered by some to contribute to averting the listing of commercially important species, or to reduce its compliance and enforcement role?
I do sometimes read newspapers and I often watch television, so I know that many countries go through a financial crisis, but we are talking about contributions from 175 countries for a total amount of between five and six million dollars a year. Ladies and gentlemen, that is not really something that is likely to affect the economy of any country.
What this Convention needs therefore is increased political will in most, if not all of its 175 Parties to take responsibility and to meet obligations. CITES is in urgent need of action rather than words. We need to be sincere and serious about responsibilities and obligations. We need to ensure concrete action in the areas of capacity building, public awareness, good science as a basis for our decisions and, of course, compliance and law enforcement. The willingness to ensure that CITES continues to work and to make CITES work better needs to gain new momentum.
Ladies and gentlemen, in the absence of necessary core funding, CITES will not be able to fully exploit its great potential and we seriously risk to let down not only the many animal and plant species we appear to attach such great importance to, but we also risk to let down the developing world in its struggle to conserve wildlife from the many threats it faces. We have importantly stepped up efforts in the Secretariat to obtain additional voluntary contributions to the Trust Fund. As a result we have doubled the funding available to implement the costed programme of work in 2008 and 2009, but our activities should not become more dependent on such voluntary contributions. I strongly urge the Parties to reverse the continuing negative financial development and to provide the funding of decisions at the same time as taking them. A positive financial development would also be to move away from the earmarked funding of small projects and in the direction of a more programmatic approach.
The presence of so many representatives of non-governmental organizations and the media is a clear indication of the importance the citizens of the world attach to CITES. That world is watching and we cannot afford to disappoint it.
I have referred to the potential of CITES and to expectations and the financial gap between the two, but also at this meeting there are other important questions before you, such as whether we should make the next step in the involvement of CITES in the conservation of economically important species. In my opinion?  Yes we should, as I have said at earlier meetings, yes we should, but only where CITES can make a difference, or - if there are existing agreements dealing with the species - only where CITES with its very specific tools and instruments has added value. The potential of this added value, however, is sometimes misunderstood. There also are widespread misunderstandings about the listing of species in CITES. Some believe, or want people to believe, that an Appendix-II listing is the end of trade. Others want people to believe that an Appendix-I listing saves a species from extinction. Both beliefs are wrong. An Appendix-II listing contributes to the sustainability of trade and therefore is positive for the future of that trade. An Appendix-I listing contributes to the conservation of a threatened species, but many additional measures are required to save it from extinction.
Ladies and gentlemen please allow me to stress something I firmly believe to be a requirement for the success of CITES meetings, a requirement that is deeply rooted in a basic principle of the Convention: the need for international cooperation. Many of you have worked very hard for a very long time on proposals, in particular in relation to the listing of species in the Appendices. Others, particularly in the NGO community, have worked hard to generate support for, or opposition to these proposals. Whatever the outcome will be for each and every one of us, I sincerely hope that this meeting will be another confirmation of successful international cooperation, a major forum for dialogue between hundreds of people involved in nature conservation. Together with you, I look forward to many interesting debates and confrontations of opinions.
As for previous meetings, the Secretariat has sought to stimulate the discussion of species-related proposals well before the actual meeting through early provisional assessments, later followed by clear recommendations. I should stress that to provide you with these assessments and recommendations is within our mandate, it is an important task of the Secretariat laid down in the very text of the Convention. In carrying out this task, the Secretariat based itself on criteria that have been established by the Parties and we have rigorously applied these. I unfortunately have to repeat this at every meeting of the Conference of the Parties, first of all because again a small number of Parties and NGO's have criticised the Secretariat for its active role and secondly because individual staff members have been subject to undue accusations and pressure in the process. In the run up to this meeting, the Secretariat has further repeatedly been falsely accused of manipulating the results of discussions that took place in The Hague. As I said in my statement on the CITES website about this, I acknowledge and value the engaged and passionate debate surrounding elephant conservation and international trade in ivory.
However, I was saddened to see that recently this has degenerated into some unwarranted and unjustified attacks upon the objectivity of the Secretariat.  Of course I am aware that this is all part of the game and – again – I realize that the stakes are high. To accept even a democratically adopted decision can be difficult and frustrating, but that is an essential element of any process of collective decision-taking and CITES should be no exception.  We should constantly remind ourselves, ladies and gentlemen, that a proper and positive dialogue on the issues before this meeting must be based on mutual respect, no matter how great the differences of opinion, convictions and cultural backgrounds are. That, ladies and gentlemen, is exactly what this Convention is about, what this meeting is about, a platform for dialogue that leads to the best decisions for species conservation.
I know that the wisdom, skills and experience of the Chairmen of the conference and its committees are a guarantee for discussions in which everybody and every viewpoint will get a fair chance. I wish the chairs every success and a lot of courage. The agenda is extraordinarily heavy and it will require all of their skills to manage the proposed work programme. I count on all participants to help the Chairs in this difficult task.
My last remark must be about the tremendous amount of work my colleagues in the Secretariat have done for this meeting, in addition to the growing number of tasks they already have to carry out on a daily basis because of staff reductions. I am extremely proud of my colleagues and grateful for their commitment, dedication and many hours of uncompensated overtime. They are a truly admirable team.
Let me assure you, ladies and gentlemen, that we, together with our skilled interpreters, report writers and the staff made available by the Government of Qatar, will do everything possible to facilitate the work of the Chairmen, of your work and a successful outcome of this meeting.
Thank you very much for your kind attention and I wish all of you a successful and rewarding meeting. I hereby declare the 15th meeting of the Conference of the Parties opened.