For use of the media only;
not an official document.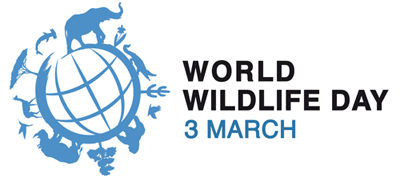 MEDIA ADVISORY
UN WORLD WILDLIFE DAY 2016
THE FUTURE OF WILDLIFE IS IN OUR HANDS
WHAT:
March 3 2016 marks the third UN World Wildlife Day. This year's main theme is "The future of wildlife is in our hands", with a sub-theme of "The future of elephants is in our hands". The United Nations, Gabon, Germany, and Thailand will co-host a high-level panel discussion on international wildlife crime, in collaboration with civil society partners. The event will focus on front line challenges, progress, and new initiatives to stop the illegal wildlife trade. Professional media are invited.
Illicit trafficking in wildlife is having a devastating impact on charismatic species, such as elephants and rhinos, but these impacts go well beyond species and biodiversity. The illegal wildlife trade (IWT) is among the five most lucrative illegal trades globally, worth up to an estimated 20 billion USD annually. It has negative impacts on human security, economic development, environmental integrity, and community well-being. It fuels conflict, weakens rule of law, and feeds large-scale corruption, often linked to organized crime; and it undermines poverty eradication efforts, and diminishes livelihoods.
The event will be used to showcase:
CITES update on trends of illegal killing of elephants in 2015 to be released on 3 March;
Launch of a One UN Campaign on IWT;
Announcement of winners of the first International Elephant Film Festival, finalists include Warlords of Ivory;
A new EU action plan on combating wildlife trafficking;
Celebrity advocacy of Gisele Bündchen and other personalities. 
WHO: 
- Jan Eliasson, Deputy Secretary-General on behalf of the UN Secretary
- General - John Scanlon, Secretary-General, CITES, and Event Moderator
- H.E. Mr. Virachai Plasai, Ambassador of Thailand to the UN, on behalf of the Co-Hosts
- Elliott Harris, Assistant Secretary-General, Director, NY Office, UNEP
- Simone Monasebian, Director, UNODC NY Office, on behalf of UNODC Executive Director
- Video Statement, Karmenu Vella, EC Commissioner, Environment, Maritime Affairs and Fisheries
- HE Mr. Heiko Thoms, Ambassador, Chargé d'Affaires a.i. of Germany to the UN
- Robert Dreher, Associate Director, U.S. Fish & Wildlife Service
- Nik Sekhran, Chief of Practice & Director, Sustainable Development Cluster, Bureau of Policy and Programme Support, UNDP
- John Robinson, Executive Vice President, Conservation and Science, WCS
- Tania Paratian, Manager Intergovernmental Relations, WWF International
- Gisele Bündchen, UNEP Goodwill Ambassador (not available for interviews) 
WHEN:
Thursday, 3 March, 11:30 am – 13:30 pm
WHERE:
United Nations, ECOSOC Chamber, New York
Please note: The event is open to media accredited by the UN Media Accreditation and Liaison Unit. To register, please contact Eva Gurria [email protected] 
Main hashtags: #WWD2016; #InOurHands; #WorldWildlifeDay
Main Twitter accounts: @WildlifeDay; @CITES; @UNEP; @UNDP; @UNODC; @WWF
Trello board with updated materials: http://bit.ly/1PU7xXw
Website: http://www.wildlifeday.org/
Thunderclap: http://thndr.me/ZmaErE 
PDF version of this page is available from here
###
Media Contacts:
CITES: Liu Yuan, [email protected], +41 79 652 0108
UNDP: Sangita Khadka, [email protected], +1-212-906-5043
UNEP: Laura Fuller, [email protected], +1 202-974-1305, Shereen Zorba, [email protected] , + 254 788 526 000
UNODC: Valerie Prassl, [email protected] +43 1 26060 4709