For use of the media only;
not an official document.
PRESS RELEASE
Ivonne Higuero named as new CITES Secretary-General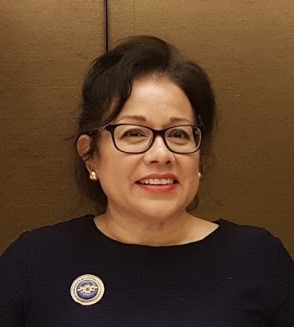 Geneva, 17 October 2018 – Ms. Ivonne Higuero has been named as the new Secretary-General of the Convention on International Trade in Endangered Species of Wild Fauna and Flora (CITES).
Ms. Ivonne Higuero is an environmental economist with a career spanning 26 years in international organizations in the area of sustainable development. She has experience working at the global, regional and national levels, and engaging with stakeholders across the public and private sectors. During her 24 years with the UN, she has held varied roles managing financial and human resources, overseeing the implementation of programmes of work and the provision of secretariat services to intergovernmental bodies.
Ms Higuero served at the UN Environment headquarters in Nairobi and the Regional Office for Europe, as the Coordinator of the Pan-European Biological and Landscape Diversity Strategy and as the focal point for biodiversity related and regional sea conventions, amongst other natural resource management roles between 1994 and 2014.
Between 2014 and 2018, she served in the United Nations Economic Commission for Europe, most recently as the Director of the Economic Cooperation and Trade Division where she led and supervised programmes on trade facilitation, access to markets, innovation and competitiveness policies and public-private partnerships. Prior to this, she was Director of the Commission's Forests, Land and Housing Division and Chief of the Operational Activities and Review Section of the Environment Division.
She is a national of Panama and holds a Bachelor of Science degree in Biology from the University of Missouri (United States of America) and a Masters' of Environmental Management Degree in Natural Resource Economics and Policy from Duke University (United States of America).
Commenting on her appointment, Ms Higuero said: "It is an honour and a privilege for me to have been selected for this exciting assignment. The preamble to the Convention, noting the ever-growing value of wild fauna and flora from aesthetic, scientific, cultural, recreational and economic points of view, has never been truer and it fits very well with Agenda 2030 and the Sustainable Development Goals. I look forward very much to assisting the Parties to implement CITES to the highest standard".
Carolina Caceres, representing Canada as current Chair of the CITES Standing Committee welcomed the appointment saying: "CITES Parties will be delighted that the post of Secretary-General has been filled and impressed with the long and broad experience of Ivonne Higuero. On behalf of the Parties, I would like to warmly welcome her to CITES and wish her every success with her new appointment".
Ms Higuero joins the CITES Secretariat as it prepares for the 18th meeting of the Conference of the Parties to be held in Sri Lanka in May-June next year.
Note to editors:
For more information and to arrange interviews, please contact Liu Yuan at +41 22 917 8130 or [email protected]
About CITES
With 183 Parties, Convention on International Trade in Endangered Species of Wild Fauna and Flora (CITES) remains one of the world's most powerful tools for wildlife conservation through the regulation of trade. Thousands of species are internationally traded and used by people in their daily lives for food, health care, housing, tourist souvenirs, cosmetics or fashion.
CITES regulates international trade in over 36,000 species of plants and animals, including their products and derivatives, to ensure their survival in the wild with benefits for the livelihoods of local people and the global environment. The CITES permit system seeks to ensure that international trade in listed species is sustainable, legal and traceable.
CITES was signed in Washington D.C. on 3 March 1973 and entered into force on 1 July 1975. Learn more about CITES by visiting www.cites.org or connecting to: