On 3 March, for the seventh time since its establishment in 2013, the CITES Secretariat and close partners organized high-level events to mark World Wildlife Day, in Geneva and New York.
Outside these official celebrations, nations and people around the world celebrated the Day by holding events and campaigns of all kinds and sizes to show their appreciation for our planet's biodiversity and its wild fauna and flora.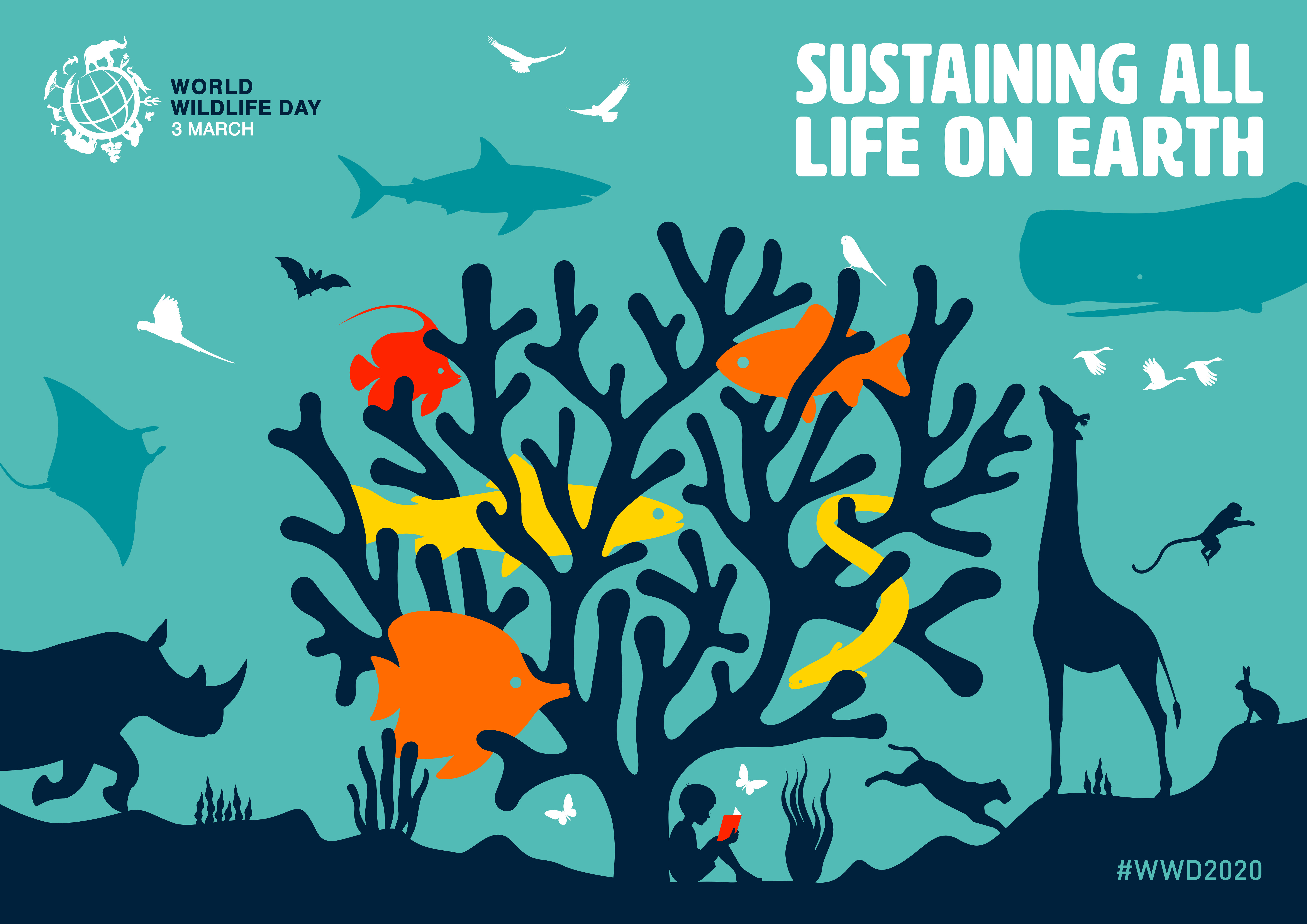 Here are a few highlights of the World Wildlife Day celebrations organized by countries and people around the world*:
Brazil returns near-extinct macaws:
On Tuesday, Brazilian authorities organized the return of 50 Spix's maccaws from Germany to Brazil with the aim of reintroducing them to the wild by 2021.
On 3 March, Brazilian authorities organized the return of 50 Spix's macaws from Germany to Brazil with the aim of reintroducing them to the wild by 2021. The bright blue parrots were welcomed by Brazil's Environment Minister, Ricardo Salles, and members of one of the country's CITES Scientific Authorities, the Chico Mendes Institute for Biodiversity Conservation (ICMBio).
Elas chegaram! #ararinhasazuis #ararinhas #ararinhaazul #biodiversidade pic.twitter.com/pkiov8JHH3

— ICMBio (@ICMBio) March 3, 2020
Spix's macaws (Cyanopsitta spixii) are listed as "extinct in the wild" by IUCN's Red List, and they are included in CITES' Appendix I.
For more, click here.
Kenya's antelope recovery programme:
In Kenya, Tourism and Wildlife Cabinet Secretary Najib Balala launched an official program aimed at restoring a viable Roan Antelope population.
I have officially launched the National Roan Antelope Recovery Plan. This is meant to ensure that we meet the goal of restoring, an initial viable Roan Antelope population to at least 50 individuals by 2023. #savetheRoan #wildlifeke pic.twitter.com/XWt7lw7IEv

— Najib Balala (@tunajibu) March 3, 2020
The Roan Antelope (Hippotragus equinus) is classified as a species of "least concern" in IUCN's Red List, though its population, which can be found in West, Central and Southern Africa, is reporteldy decreasing. The species has also become near extinct in Kenya, with only 12 specimens left in the country according to figures published by Cabinet Secretary Balala.
For more, click here.
New Zealand holds a national art contest:
Inspired by the International Youth Art Contest co-organized by the CITES Secretariat, IFAW and UNDP, the Department of Conservation of New Zealand, the CITES Management Authority of the country, organized its own national youth art contest inviting young artists aged 5 to 12 to show their appreciation for wildlife through art.
12-year-old Aucklander Ava Dilly was named the winner for her beautiful rendition of two South American blued-and-gold Maccaws (pictured above).
For more, click here.
Thailand launches new Ivory campaign:
Thailand's National CITES Management Authority, the Department of National Parks, Wildlife and Plant Conservation (DNP) teamed up with the United States Agency for International Development (USAID) to launch a campaign to reduce demand for ivory and tiger amulets.
Dubbed the "No Ivory, No Tiger Amulets" campaign, the move is part of a wider effort urging people in Thailand to stop buying products made from endangered wildlife species.
Celebrating #WWD2020, #USAIDWildlifeAsia & @DnpReport launched "No Ivory, No Tiger Amulets" campaign urging the Thai public to question their beliefs in the protective power of #ivory & #tiger amulets & to stop buying these products. Read more: https://t.co/3Upe9ABCKE pic.twitter.com/WmvrMZAdLN

— USAID Asia (@USAIDAsia) March 3, 2020
Online, a flood of tributes and messages:
From Canada's tribute to its local and diverse wildlife,  museums' efforts to highlight of its wildlife and biodiversity-related art and even a message from the staff of the Hubble telescope, groups and organizations of all kinds published their heartfelt messages to mark the Day.
Celebrities joined in with their own tributes, including those of sand artist Sudarsan Pattnaik in India, Australian conservationist Robert Irwin,  and Bollywood actress and producer Dia Mirza.
On the World Wildlife Day website, hundreds of groups registered events across all regions of the planet: from photographic competitions in Accra, Ghana; a symposium in Bhopal, India; a forum on crocodile conservation in the Philippines; and reforestation days in Nicaragua, among many more.
*The CITES Secretariat is not responsible for the organization of the national events to observe World Wildlife Day.
To learn more about the World Wildlife envets hosted and organized by the CITES Secretariat read through the following: