For use of the media only;
not an official document.
PRESS RELEASE
Global art contest in celebration of World Wildlife Day 2019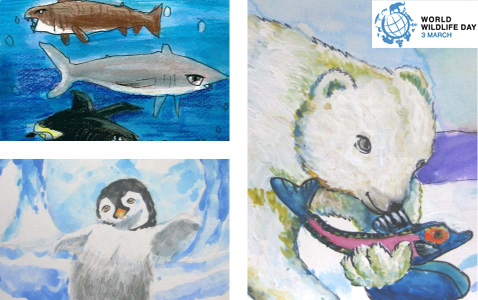 Geneva, 16 January 2019:  World Wildlife Day 2019 on 3 March, celebrated under the theme "Life under water – for people and planet", will put the conservation of marine species in the global spotlight. As part of the World Wildlife Day celebrations around the world, the International Fund for Animal Welfare (IFAW) will host a global art contest for school children in collaboration with the Secretariat of the Convention on International Trade in Endangered Species of Wild Fauna and Flora (CITES) and the United Nations Development Programme (UNDP).
The theme of the contest will be in line with the UN Sustainable Development Goal 14 - Life below water, which is also the theme of this year's World Wildlife Day. It presents an opportunity to encourage youth engagement while highlighting marine species that will be discussed at the upcoming World Wildlife Conference – CITES CoP18 in Colombo, Sri Lanka, in May 2019.
The art contest engages school-aged children and aims to build a sense of connection between youth and the marine world, giving them a chance to highlight the critical importance of marine wildlife to their lives. As children have an affinity for both wildlife as well as art, the contest encourages this fundamental form of expression which gives them a voice while building an even stronger sense of connection with the natural world.
Interested and aspiring young artists can now submit their work electronically through IFAW's website through 10 February. The grand prize winner will be announced on 1 March at the WWD ceremony held at the UN Headquarters in New York, where he/she will have the opportunity to attend in person as a guest of honour.
According to Kelly Johnston, Program Officer of IFAW, "We are excited by the global collaboration around this critical theme and the opportunity to inspire youth of all ages through the 2019 art contest.  Through increasing awareness about the threats faced by wildlife across the globe in a means that offers creativity and expression, we are hopeful that the global youth community will further come together to share its sense of connection with the natural world."
As UNDP Head of Biodiversity and Ecosystems, Midori Paxton, notes: "Over three billion people depend on marine and coastal biodiversity for their livelihoods; oceans help to mitigate the impact of climate change. If we are to ensure that ocean ecosystems are sustainably managed for current and future generations, a comprehensive global response is needed which includes engaging youth on issues related to the health of the marine ecosystem."
Liu Yuan, Programme and Communications Officer of the CITES Secretariat, said "We are delighted to team up with IFAW to organize an art contest which provides a great opportunity for the youth to express themselves and to take action to support the conservation of marine species. We human beings are still consuming a significant amount of wildlife, especially from the perspective of wild-caught marine species and we are seeing 30% of the world's fish stocks overexploited.  We must ensure that our consumption is at sustainable level."
World Wildlife Day was proclaimed in 2013 in the 68th session of the United Nations General Assembly (UNGA), marking the day of signature of the CITES, to celebrate and raise awareness of the world's wild animals and plants. Since that time it has become the most important global annual event specifically dedicated to wildlife.
For additional details on contest rules and instructions, please click here or contact [email protected].
Note to editors: For more information and to arrange interviews, please contact Liu Yuan at +41 22 917 8130 or [email protected]
***
About CITES
With 183 Parties (182 countries + the European Union), the Convention on International Trade in Endangered Species of Wild Fauna and Flora (CITES) remains one of the world's most powerful tools for wildlife conservation through the regulation of trade. Thousands of species are internationally traded and used by people in their daily lives for food, health care, housing, tourist souvenirs, cosmetics or fashion. CITES regulates international trade in over 36,000 species of plants and animals, including their products and derivatives, to ensure their survival in the wild with benefits for the livelihoods of local people and the global environment. The CITES permit system seeks to ensure that international trade in listed species is sustainable, legal and traceable. CITES was signed in Washington D.C. on 3 March 1973 and entered into force on 1 July 1975.
About IFAW
Founded in 1969, the International Fund for Animal Welfare (IFAW) is a global non-profit organization that protects animals and the places they call home. With offices in 15 countries and projects in over 40, we rescue, rehabilitate and release animals into secure landscapes around the world. In collaboration with both governments and local communities, our experienced campaigners, legal and political experts, and internationally acclaimed scientists pioneer lasting solutions to some of the most pressing animal welfare and wildlife conservation issues of our time.
About UNDP
UNDP partners with people at all levels of society to help build nations that can withstand crisis, and drive and sustain the kind of growth that improves the quality of life for everyone. On the ground in nearly 170 countries and territories, we offer global perspective and local insight to help empower lives and build resilient nations.