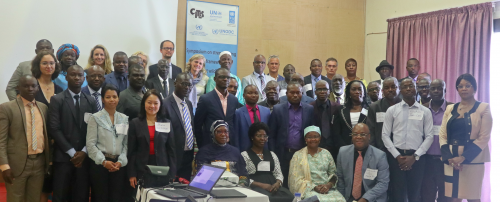 Representatives of 19 African countries gathered at a Symposium in Abidjan, Côte d'Ivoire, from 11 to 12 September 2018 to identify ways to strengthen their national legal frameworks for the sustainable management of and trade in wild fauna and flora and to better address illicit trafficking in wildlife. They were assisted by top experts from five different UN entities, including the CITES Secretariat, joining forces to assist countries in adopting effective legislation while addressing the realities of the countries and the interests and needs of rural communities living alongside wildlife.
International trade in wild animals and plants, including tree species, and any part or product derived from such animals and plants may be authorized if the take of the specimens is sustainable and legal in accordance with the Convention on International Trade in Endangered Species of Fauna and Flora (CITES). The Convention was adopted in 1973 and, since then, 183 Parties have agreed to be bound by the provisions.
Trade in violation of the Convention is illegal and poses a threat to the survival of certain species of animals and plants across many parts of the world. In a number of high-level regional political declarations, Governments across Africa have committed to redouble their efforts to prevent, detect and penalize such crimes.
They will do so by strengthening their legal frameworks, stepping-up cooperation at national and regional levels, raising awareness regarding the drivers and impacts of wildlife crime, and working with local communities to prevent and address the illegal harvest of and trade in wildlife and forest products.
Adequate penalties are important deterrents to crimes, especially for those that are transboundary in nature. A rapid survey issued in advance of the Symposium on Strengthening Legal Frameworks to Combat Wildlife Crime in Central and West Africa, has revealed that countries in Central, West and Southern Africa, generally apply low penalties for wildlife crime. Many countries across East Africa and Asia apply tougher penalties, both monetarily and in terms of prison time.
One of the participants from Angola observed: "we have noted the need to increase penalties for wildlife crime in West and Central Africa. Angola has much lower penalties than its neighbouring countries and has to address the discrepancy."
The symposium was co-organized and co-financed by five UN entities in response to a needs assessment which called for the strengthening of legal frameworks to better control legal trade and to combat illegal trade. The participants from 19 Francophone and Lusophone African countries1 came from national wildlife management authorities, and criminal justice authorities, such as public prosecutors, judges, and officials from ministries of justice.
Many participants noted that national parliamentarians and other actors need to be sensitized and mobilized for change to happen.
The organizers of the event took note of the expressed needs for further assistance which will be considered in the planning of future activities.
---
1  Angola, Benin, Burkina Faso, Burundi, Cameroon, Cabo Verde, Central African Republic, Chad, Côte d'Ivoire, Democratic Republic of the Congo, Gabon, Guinea, Guinea-Bissau, Madagascar, Mali, Mozambique, Niger, Republic of the Congo and Togo.