France, host of the 74th meeting of the CITES Standing Committee, revealed the logo for the event, designed by the Metropolis of Lyon. The logo features the species Epipactis rhodanensis that is quite famous in the Metropolis of Lyon (France) – venue of the meeting - while the general shape of the drawing represents the shape of the territory of the Metropolis with stems symbolizing the rivers cutting through the territory.
The upcoming meeting will take place at the Silk Racecourse in Vaulx-en-Velin (1 Av. de Bohlen) in the Metropolis of Lyon from 7 – 11 March 2022.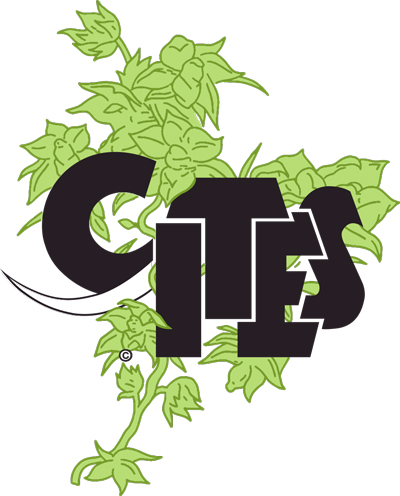 "We are very excited to welcome the Standing Committee to the Hippodrome de la Soie in Vaulx-en-Velin – the venue is perfectly located near the airport of Lyon and not far from the Centre of town, a world heritage site and world capital of gastronomy. The logo of the event symbolises the species Epipactis rhodanensis, one of more than 1700 species of fauna and flora in Vaulx-en-Velin", said the head of the French delegation to the meeting, Mr Jean Patrick Le Duc.
Ms Ivonne Higuero, Secretary-General of CITES said, "The logo of the upcoming meeting with its local species of an orchid is a great representation of CITES as the Convention regulates international trade in more than 30,000 species of orchids." She continued, "We are extremely grateful to the Metropole of Lyon and the French Government for their enthusiasm and generosity in hosting this meeting and we look forward to coming to Lyon in March."
As requested by the Chair of the Standing Committee at the informal briefing on the organization of SC74 on 14 December 2021 (aide-memoire), the Secretariat continues to assess the situation in collaboration with the host country; an updated risk assessment presented by the Secretariat at the briefing will be finalized in early February 2022. France remains committed to implement measures required to ensure the health and safety of the participants in the context of the COVID-19 pandemic.
The deadline for registration for United Nations entities, non-Party States and observer organizations is 5 February 2022, while for Parties, the deadline is 28 February 2022. However, for logistical and planning purposes, the Secretariat and the host country would encourage Parties to register as soon as possible. Please click here for the Notification on registration.
Participants are encouraged to make flexible travel arrangements pending the review of the risk assessment to enable them to apply for visas (if required) in a timely manner. A Notification to the Parties containing final logistical arrangements will be issued in due course after finalization of the review of the risk assessment.
Agenda and documents for the SC74 are available here
More information, please contact Sofie H. Flensborg at [email protected]