Bangkok, 18 July 2023 — The digitalization of permitting systems is crucial and makes a significant contribution to ensuring the legality, sustainability and traceability of international trade in wildlife species. Automating processes of the Convention on International Trade in Endangered Species of Wild Fauna and Flora (CITES) increases cross-border transparency, saves time and resources for CITES Management Authorities verifying and issuing CITES permits, and reduces opportunities for the use of fraudulent permits.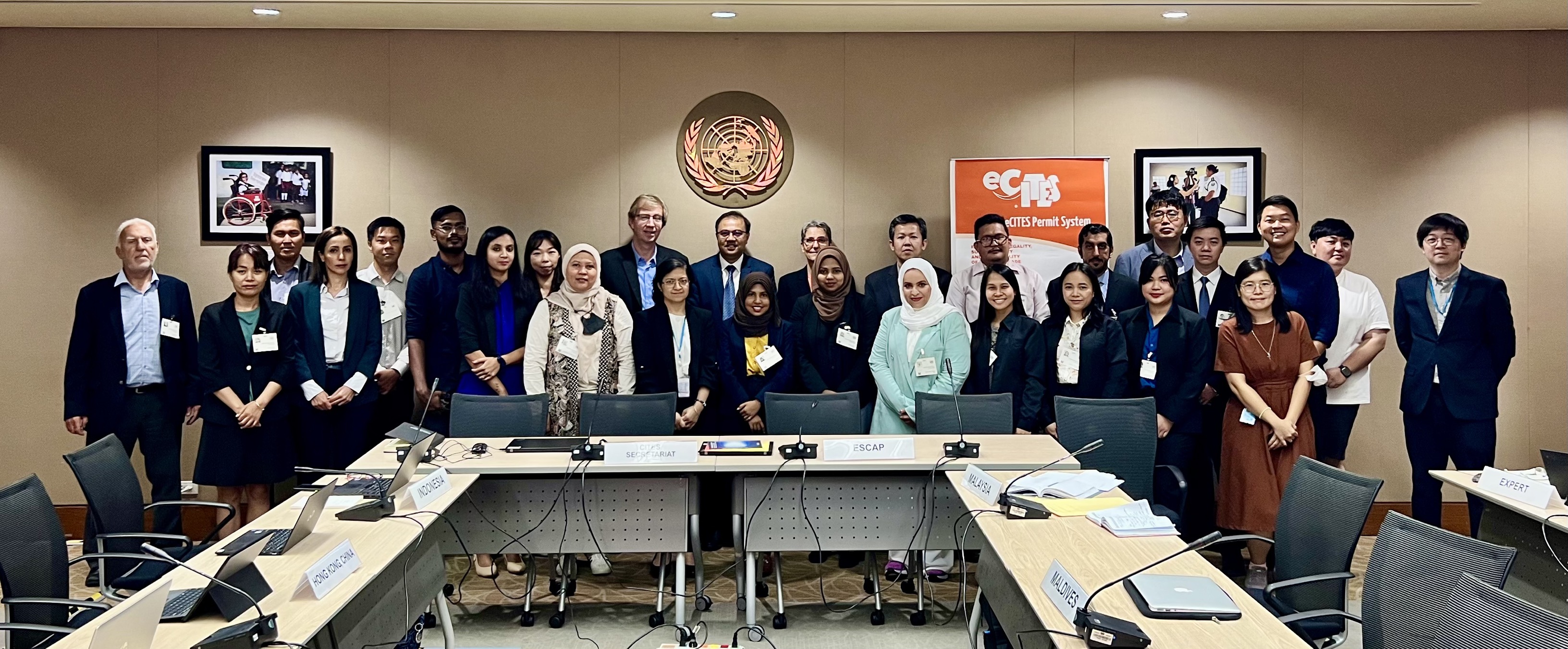 In a global effort to streamline CITES permit processes and trade controls, as well as combat illegal trade in wildlife, the CITES Secretariat, in collaboration with the CITES Working Group on Electronic Systems and Information Technology and the Automated System for Customs Data (ASYCUDA) Programme of the United Nations Conference on Trade and Development (UNCTAD), launched the Electronic CITES (eCITES) initiative in 2010.
From 17-18 July 2023, the CITES Secretariat and United Nations Economic and Social Commission for Asia and the Pacific (UNESCAP) co-organized the CITES-ESCAP Regional Workshop on Electronic CITES Permitting Systems in Asia. The regional workshop was held in hybrid fashion, with in-person participation in Bangkok, Thailand, as well as participation online.
The objective of the workshop was to strengthen the capacity of CITES Management Authority representatives and other relevant agencies interested in or planning to implement eCITES permitting systems.
Over the course of two days, workshop participants improved their understanding on eCITES and a range of related issues, including inter alia: eCITES project implementation, e-business standards, Species+ API, integration with National Single Window, risk management for border control as well as emerging issues like Electronic Permit Information Exchange (EPIX) and two-dimensional barcodes. Representatives from 14 CITES Management Authorities from the Asia region presented overviews of their permitting procedures.
In her opening remarks at the workshop, Ms Ivonne Higuero, CITES Secretary-General pointed out: "Digitalization of the permitting mechanism can play an important role to accelerate efforts to achieve the CITES objective. Greater uptake of digital solutions and advanced technologies will bolster transparency and traceability throughout the process of facilitating authorized trade of specimens in CITES-listed species."
Citing the example of eCITES, Ms Rupa Chanda, Director of the Trade, Investment and Innovation Division of UNESCAP said: "Automation and digitalization are keys to fostering greater sustainability in trade, and the implementation of electronic CITES permitting systems is a clear example of putting this into practice."
According to the results of the United Nations Global Survey on Digital and Sustainable Trade Facilitation 2023, 31 Parties have partially implemented eCITES systems, and 12 Parties are in early planning stages. This was the first time that the implementation of eCITES systems has been included as an indicator in this survey, led by the United Nations Regional Commissions. 
Editor's Notes: 
For media inquiries, please contact [email protected] 
About CITES 
The Convention on International Trade in Endangered Species of Wild Fauna and Flora (CITES) was signed on 3 March 1973 and entered into force on 1 July 1975. With 184 Parties (183 countries + the European Union), it remains one of the world's most powerful tools for wildlife conservation through the regulation of international trade in over 40,900 species of wild animals and plants. CITES-listed species are used by people around the world in their daily lives for food, health care, furniture, housing, tourist souvenirs, cosmetics or fashion. CITES seeks to ensure that international trade in such species is sustainable, legal and traceable and contributes to both the livelihoods of the communities that live closest to them and to national economies for a healthy planet and the prosperity of the people in support of UN Sustainable Development Goals. 
Follow CITES on social media: 
Find out more: www.cites.org