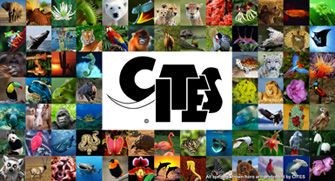 Geneva, 7 November 2019 – The CITES Secretariat published today the full suite of Decisions adopted at the 18th meeting of the Conference of the Parties (CoP18) held in Geneva, Switzerland from 17 to 28 August 2019.
Decisions of the Conference of the Parties usually contain short-term tasks to be achieved by the Parties, Permanent Committees and the Convention Secretariat between meetings of the Conference of the Parties – in this case between CoP18 and CoP19, which is due to take place in Costa Rica in 2022. It amounts to the most ambitious programme of work ever adopted by CITES Parties – 357 active Decisions in total.
The record number of Decisions cover a wide array of issues, ranging from the enhancement of the regulation of trade in various species of plants and animals and efforts needed to combat illegal trade,  to capacity building, compliance, law enforcement, and engagement of indigenous peoples and local communities. Many of the Decisions lay down the functions of the Secretariat, and several others map out specific steps to be taken by Parties and the Secretariat to implement the Strategic Vision Post 2020. 
CITES Secretary-General Ivonne Higuero said: "This ambitious work programme demonstrates the increasing reliance on CITES to effectively regulate international trade of vulnerable wild fauna and flora. To be successfully delivered, this programme will require the full engagement of all CITES Parties, the Permanent Committees and CITES partners, both public and private. The Secretariat will be working hard to raise the significant additional funds required for activities and we count on the strong support of donors."
The Decisions will be complemented by the Resolutions of the Conference of the Parties adopted at CoP18 to be published in the coming days. Resolutions set out statements of long-term policy and the interpretation of terms used in the text of the Convention.
Both the Decisions and the Resolutions will come into effect on 26 November 2019, namely 90 days after their adoption.