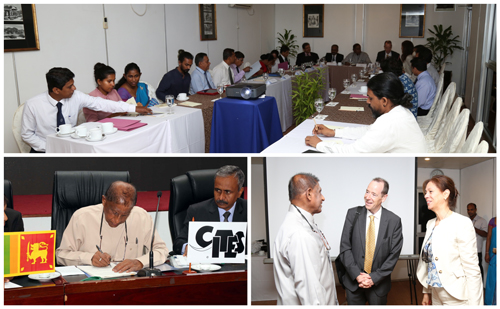 Secretariat staff recently returned from a reconnaissance visit to Colombo, Sri Lanka to discuss preparations for CoP18 with officials from the host Government.
The Bandaranaike Memorial International Conference Hall (BMICH) in Colombo, Sri Lanka will be at the full disposal of the Parties for the duration of the CoP in May 2019. Set in 17 hectares of grounds full of wildlife, the BMICH was built for the Fifth Non-Aligned Conference held in 1976 and the Hall's current Director, Mr. Sunil Dissanayake, was present in 1976, demonstrating the depth of experience of the Hall's staff!
Sri Lanka's Ministry of Buddha Sasana led by Minister Gamini Jayawickrama Perera (former Minister of Sustainable Development and Wildlife) will coordinate Sri Lanka's hosting of CoP18. Minister Perera has assembled a highly motivated team to make the preparations, drawn from a wide range of backgrounds. The Secretariat delegation was delighted to meet the team and pleased to find progress with the preparations being made on many fronts. The two sides committed to work together to produce the best possible event for delegates.
Minister Perera signed a Host Country Agreement with the Secretariat putting the CoP18 preparations on a formal footing. "Sri Lanka is proud to have been chosen by the Parties as the host for the 18th meeting of the Conference of the Parties to CITES in 2019. Delegates from around the world can be assured of a warm welcome to our beautiful island and we are determined to make CoP18 one that will be remembered for years to come. We take this as an opportunity to showcase our commitment to the conservation of flora and fauna and to conduct a green conference with the least possible carbon foot print. We are working in tandem with our colleagues in the CITES Secretariat to put all the logistical arrangements in place and we will be updating Parties at the 70th meeting of the Standing Committee in October", said Minister Perera.
"The inter-sessional period between CoP17 and CoP18 is proving to be amongst the busiest that anyone can remember and CoP18 seems certain to be a very busy meeting which will advance the implementation of CITES on many fronts", said David Morgan, Officer-in-Charge of the CITES Secretariat. "CoP18 will be the first meeting of the Conference of the Parties in South Asia since 1981 and working side by side with colleagues in Colombo, the Secretariat staff will be pulling out all the stops to make sure it is a memorable one", he added.