For use of the media only;
not an official document.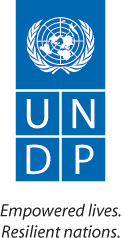 PRESS RELEASE
CITES, UNDP and FAO bring global representatives together at UN headquarters to
celebrate World Wildlife Day and "Life below Water"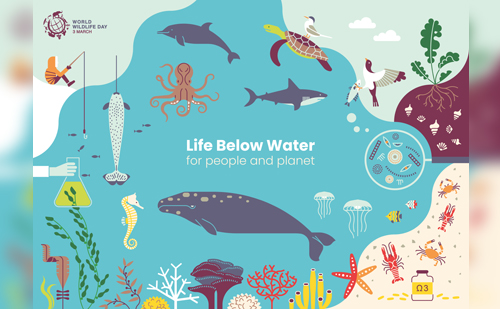 Geneva/New York, 1 March 2019 - High-level representatives from UN member states and international organizations gathered today at the United Nations Headquarters to celebrate the UN World Wildlife Day under the theme 'Life below water: for people and planet.
The benefits of marine and coastal resources are enormous. Over 3 billion people depend on these resources for their livelihoods globally. The market value of marine and coastal resources and related industries is estimated at US$3 trillion per year, about 5% of global GDP. Alarmingly, despite its critical importance, life below water faces many threats, amongst them an area of primary concern for CITES, which is their unsustainable exploitation for international trade. Over 30% of commercially exploited marine fish stocks are overfished. 
Jointly organized by the Secretariat of the Convention on International Trade in Endangered Species of Wild Fauna and Flora (CITES), the United Nations Development Programme (UNDP), the event was attended by senior government officials, international organizations dealing with fisheries such as the Food and Agriculture Organization (FAO), conservation leaders, the private sector, celebrity advocates and youth representatives.  
The UN Secretary-General provided a message for World Wildlife Day 2019.  Permanent Representatives of Sri Lanka and Germany to the United Nations, the UNDP Administrator and the President and CEO of the Wildlife Conservation Society also gave opening remarks on the importance of the day.
The speakers and expert panelists shared with the audience their experiences and views on the crucial contributions of life below water to sustainable development as well as the challenges faced in ensuring its conservation and sustainable use, while highlighting solutions to address them.
World Wildlife Day 2019, which falls on 3 March, focuses on marine species and aligns closely with the Sustainable Development Goal 14 – Life below water. It is an opportunity to raise awareness about the breathtaking diversity of marine wildlife, the benefitsit brings to our everyday lives as well as ways to ensure that it can continue to do so for generations to come.
CITES Secretary-General, Ivonne Higuero, said: "This is the first World Wildlife Day that focuses on life below water. We are all striving to achieve the same objective of sustainability: for people and planet – where wildlife, be it terrestrial or marine, can thrive in the wild while also benefiting people. We, here at CITES, will continue to work tirelessly to ensure international trade in CITES-listed marine species is legal, sustainable and traceablefor people, planet and prosperity."
"5 to 12 million tonnes of plastic now enter the ocean every year, threatening the health of countless species - from the smallest zooplankton to the largest whales.  90% of large predators have already been taken out of the ocean by overfishing, some 30% of fish stocks are overexploited, and over 500 hypoxic areas have become 'dead zones' uninhabitable for most species," said UNDP Administrator, Achim Steiner. "To reverse this, a literal 'sea change' is required in how we manage both ocean and land-based activities, across sectors ranging from fisheries to agriculture to waste management."
FAO Assistant-Director General, Fisheries and Aquaculture, Árni M. Mathiesen, said:  "FAO welcomes the decision to focus on marine species at this year's World Wildlife Day, as it builds on international recognition of the importance of conserving and sustainably using life under water. FAO and CITES continue to work jointly on CITES species listings, supporting countries and ensuring that decisions complement established fisheries management approaches worldwide."
As part of the World Wildlife Day activities, the CITES Secretariat and UNDP partnered with the Jackson Hole WILD to organize the Living Oceans Film Showcase focusing on marine species. The Film Showcase aims is to galvanize the power of media to inspire wonder, catalyze change and move the dial on the conservation and sustainable use of marine species and highlight inspiring solutions. CITES and UNDP also partnered with the International Fund for Animal Welfare to organize an international youth art contest as an effort to engage school-aged children and help them build a sense of connection with the marine world.
Winners of the Living Oceans Film Showcase and the youth art contest were announced during the high-level event at the UN Headquarters.
For more information and to arrange interviews, please contact:
CITES: Liu Yuan at +41 22 917 8130 or [email protected]
FAO: Bryce Seockhwan Hwang, FAO-UN Liaison Office (New York), tel: (+1 917) 367-8242 e-mail: [email protected]
About CITES
With 183 Parties (182 countries + the European Union), the Convention on International Trade in Endangered Species of Wild Fauna and Flora (CITES) remains one of the world's most powerful tools for wildlife conservation through the regulation of trade. Thousands of species are internationally traded and used by people in their daily lives for food, health care, housing, tourist souvenirs, cosmetics or fashion. CITES regulates international trade in over 36,000 species of plants and animals, including their products and derivatives, to ensure their survival in the wild with benefits for the livelihoods of local people and the global environment. The CITES permit system seeks to ensure that international trade in listed species is sustainable, legal and traceable. CITES was signed in Washington D.C. on 3 March 1973 and entered into force on 1 July 1975.
About UNDP
The United Nations Development Programme (UNDP) partners with people at all levels of society to help build nations that can withstand crisis, and drive and sustain the kind of growth that improves the quality of life for everyone. On the ground in more than 170 countries and territories, UNDP offers global perspective and local insight to help empower lives and build resilient nations. www.undp.org.
About FAO
The Food and Agriculture Organization (FAO) is a specialized agency of the United Nations that leads international efforts to defeat hunger. Our goal is to achieve food security for all through productive and sustainable food production that makes sure that people have regular and sustained access to enough high-quality food to lead active, healthy lives. With over 194 member states, FAO works in over 130 countries worldwide.