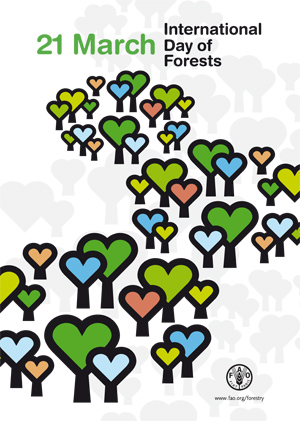 On the International Day of Forests, CITES highlights the increasing use being made of the Convention to help countries along the path to sustainability in our forests.
"We have seen a major development in the use of the Convention over recent years, with Parties deciding to include many commercially valuable tree species under CITES regulatory controls. Just 18 tree species were listed in the CITES Appendices in 1975. Today more than 400 tree species are listed under CITES with the 16th meeting of the Conference of the Parties to CITES (CoP16), held in Bangkok last year, bringing almost 300 new timber species under Appendix II of CITES," said CITES Secretary-General John E. Scanlon.
"The decisions taken at CoP16 to bring so many new tree species under CITES, which were all taken by consensus, reflect the growing confidence that Parties have in CITES in helping them manage these valuable resources more sustainably and the will to ensure the legality of timbers in trade" added Scanlon.
The CITES Secretary-General is also participating by invitation in the "Forests for Fashion - Fashion for Forests" conference at the Palais de Nations in Geneva as part of the International Day of Forests celebrations. Mr. Scanlon will highlight the benefits to people and wildlife of strictly regulated international trade in certain timber and non timber forest products to ensure legality, sustainability and traceability.
CITES works in partnership with other organizations to enhance sustainable forestry and timber trade practices. The successful collaboration between CITES and ITTO is show-cased in a series of videos illustrating joint projects in Cameroon (African cherry), Indonesia (Ramin) and Peru (Big leaf mahogany), all available on the CITES YouTube page. The ITTO-CITES programme is cited as having a lot to do with the increased confidence that CITES can contribute to improved, more effective global timber trade regulations and sustainable forest management.
The legal trade in CITES species generates billions of dollars each year. By way of example, Madagascar rosewood logs can sell for USD 5,000 per m3, which is double the price of another valuable CITES- listed timber species, mahogany. USD 1 billion is generated annually at the upper end of the value chain for trade in just five CITES-listed pythons, and one litre of Aquilaria crassna, an oil derived from agarwood, is valued at USD 80,000.
Effectively regulating trade in forest products and combatting illegal trade also has great benefits for people, such as ensuring sustainable livelihoods, and protecting tourism assets and ecosystems and the vital services they provide. Wildlife-based tourism brings significant benefits for some national economies and is a major generator of local jobs and foreign exchange.
"Through our collective efforts we are ensuring that wild plants, and the animals that depend upon them, in their many beautiful and varied forms, will be protected for this generation and the generations to come" concluded Scanlon.