The Secretariat of the Convention on International Trade in Endangered Species of Wild Fauna and Flora (CITES) welcomes the "Declaration on Combating Wildlife Trafficking" adopted on the occasion of the 9th East Asia Summit (EAS) held in Nay Pyi Taw, Myanmar on 13 November 2014. The EAS brings together the 10 Association of Southeast Asian Nations (ASEAN) member States and their major trading partners, and the Declaration was adopted by Heads of State and Governments of the ASEAN member States, as well as Australia, China, India, Japan, the Republic of Korea, New Zealand, the Russian Federation and the United States of America.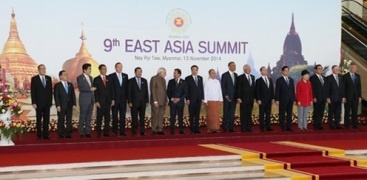 The Declaration outlines 21 actions which the Heads of State and Governments agreed to take to combat wildlife trafficking under their commitments to CITES and the Convention on Biological Diversity. The Declaration recognizes that illicit trafficking and illegal trade in wildlife specimens are prejudicial to the planet's natural heritage, and notes that it necessitates increased cooperation, coordination, investigative and enforcement measures amongst all agencies responsible for wildlife law enforcement, including wildlife, forestry, Customs, police, judicial and prosecutorial authorities.  
The Declaration also recognizes the conservation actions and commitments that have already been made with respect to the species regulated by CITES, through its Decisions and Resolutions, and requests the ASEAN Ministers' Meeting on Transnational Crime (AMMTC) to consider recognizing environmental crime as a serious transnational crime and to include it as an area of cooperation in the ASEAN Plan of Action to Combat Transnational Crime.
Commenting on the East Asia Summit Declaration, the CITES Secretary-General, Mr. John E. Scanlon said: "The outcomes of the 9th East Asia Summit further contributes towards the collective efforts to combat wildlife crime more effectively, to raise the profile of wildlife crime and to secure political support for combating it. Such events provide sustained momentum for a strong global response to the threat posed by wildlife crime."
"To recognize wildlife crime as a serious transnational crime is critical and it will help ensure that adequate and effective means of international cooperation can be afforded under the Convention on Transnational Organized Crime in the investigation and prosecution of those engaged in illicit trafficking in protected species of wild fauna and flora", he added.
Note to journalists:
For more information, contact Juan Carlos Vasquez at +41 22 917 8156 or [email protected].
See the full copy of the East Asia Summit Declaration on combating wildlife trafficking.
Read more: