Background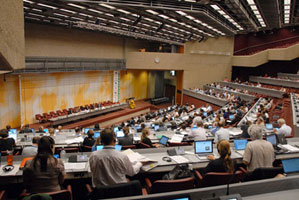 61st meeting of the Standing Committee, Geneva, Switzerland
At the 61st Meeting of the Standing Committee held in August, 2011, drawing upon the good experience gained through the award of the Secretary-General's Certificates of Commendation to the enforcement community, the Secretariat proposed to introduce a new scheme for recognizing those who have supported the work of the Convention in other fields, and in particular in the areas of management (in the sense of implementation of the Convention) or science. The Standing Committee endorsed the proposal from the Secretariat set out in Agenda Item 21 noting that the Secretary-General would exercise his good judgement in granting certificates that would have a positive influence.
The use of the term 'certificate of commendation' is well known in the enforcement community but it is not as appropriate for other areas, such as science or management. The award to management and scientific authorities will be known as the 'certificate of merit'.
The Award of Certificates of Merit
When the Secretariat receives information from Parties, or when it learns independently of outstanding examples of management or science-related work, it reviews the case to determine whether it can serve as an example to the wider CITES community or whether it has furthered the aims of the Convention in advancing management or science under the Convention in an innovative manner.
As with the Secretary-General's Certificates of Commendation, the Secretariat does not intend to establish strict criteria but has developed the following general guidelines as instances where recognition might be appropriate, for example in the case of science:
Development of innovative and effective techniques for non-detriment findings;
Sharing of results and promotion of the exchange of good practice which has had widespread benefit for the CITES scientific community, either on a regional or global level;
Long-term commitment on the part of individuals or organizations to science in CITES, of an outstanding nature that is especially worthy of recognition;
Outstanding contributions to scientific capacity-building, particularly in exporting Parties; and
Contributions to the amendment of the Appendices in a way that sets a particularly high scientific standard or that has made a major contribution to the alignment of the Appendices with the conservation needs of the species.
Recipients of Certificates of Merit
May 2014. CITES Secretary-General's Certificate of Merit for Science awarded to the Comisión Nacional para el Conocimiento y Uso de la Biodiversidad (CONABIO) in its role as CITES Scientific Authority of Mexico. See more...