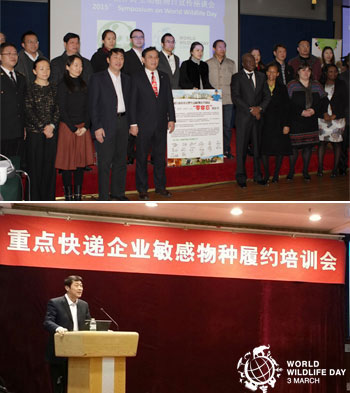 World Wildlife Day 2015,  the day when the Convention on International Trade in Endangered Species of Wild Fauna and Flora (CITES) was signed,  was celebrated in China with further concrete steps being taken to enhance the implementation of CITES and to combat illegal wildlife trade across the country. 
A symposium to commemorate World Wildlife Day was held in conjunction with a training seminar for key courier companies on the transport of protected  wildlife and their products. 
 Seventeen leading courier companies, including both leading national and multinational companies with outlets in China such as China Post, SF Express, EMS, DHL, FedEx and TNT attended the training seminar and signed a Zero Tolerance pledge towards illicit trade in wildlife and their products. These companies account for over 95% market share in China according the State Bureau of Post of China. 
Vice Minister Liu Dongsheng of State Forestry Administration, Dr Meng Xianlin, Executive Director-General of the CITES Management Authority of China and Mr Lin Hu, Deputy Director General of the Market Supervision Department of the State Post Bureau attended the event. The seminar was jointly organized by the CITES Management Authority of China, the State Bureau of Post and TRAFFIC. China Express Association and China Wildlife Conservation Association were represented at the seminar.
"As a Party to CITES, China is fully committed to the implementation and enforcement of CITES as well as the regulation of wildlife trade within China. The Government of China is very serious about wildlife crime. Enhanced market inspection, domestic transport control, regulation of import and export and transaction on the internet all form part of our routine work in an effort to effectively curb illegal trade. We will work closely with the international community. Together we can break the illegal trade chain!",  stated Mr Liu Dongsheng, Vice Minister of State Forestry Administration
.
During the one day training seminar, titled Training Seminar for Key Courier Companies on CITES Implementation concerning High-risk Species, representatives from leading courier services were detailed on relevant national legislations in connection with wildlife trade as well as CITES, the ways to monitor and detect illegal trade products, and examples of cases of wildlife trafficking. In the Zero Tolerence pledge, the companies committed to tighten up scrutiny of wildlife products, such as tiger bone, rhino horn and elephant ivory, immediately report cases to the relevant authority and help raise awareness of wildlife laws with their clients. 
"We commend the courier companies operating in China for making this bold commitment.  As more people working in the transport sector look out for illegally traded wildlife, the likelihood of finding the illegal traders will increase.  This is one more step in the right direction of maximizing the risk of illegally trading in wildlife and driving down the profit", says CITES Secretary-General, Mr John E. Scanlon. 
A recently released research conducted by TRAFFIC shows that the main platform of illegal trade in wildlife and their products in China has shifted away from online retailers to social media tools. To eventually make the transaction happen, courier service is being used as by far the most important means of transport and it therefore represents a key link in the illegal trade chain. Evidently the cooperation and support of courier companies will be crucial in the endeavours to curb the illicit trafficking of wildlilfe.
The Government of China is taking increasingly strong measures to combat illegal wildlife trade, including increased seizures, convictions and penalties as well as outreach campaigns. 
China's commitment to fully implementing CITES was reaffirmed when the CITES Secretary-General met Vice Premier Wang Yang in Beijing earlier this year (see 
more
).