Informal Plenary Meeting to Celebrate World Wildlife Day
UN General Assembly
Intervention by John E. Scanlon 
 
Secretary-General of CITES
President of the General Assembly, H.E Mr. Sam Kutesa
Deputy Secretary General, Mr. Jan Eliasson 
Distinguished Panelists and Delegates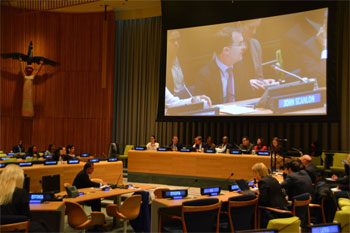 We would like to express our sincere thanks to you President Kutesa, and to Member States, for convening this Informal Plenary Meeting to celebrate World Wildlife Day 2015, which has as its theme 'It's time to get serious about wildlife crime.'
Yesterday the Permanent Missions of Gabon, Germany and Thailand hosted an event at the Central Park Zoo that was supported by many UN agencies and the Wildlife Conservation Society. The UN agencies have worked as one in preparing for World Wildlife Day 2015, and international and national organizations of all persuasions have joined in this collective effort. The benefits of working together can be seen today with tens of millions of people being reached through our combined efforts at using social media, which included reaching over 150 million people through Twitter alone. 
The scale and nature of illegal wildlife trade have changed over recent years and so is the global response. 
Illegal wildlife trade now increasingly involves transnational organized criminals and in some cases rebel militia and rouge elements of the military, which has changed the dynamics of combating this highly destructive criminal activity, in particular as it relates to some mega-fauna, such as elephants, and high-value flora, such as rosewood. It also threatens many lesser know species, such as the pangolin 
The profound impact this poaching and illegal trade is having upon entire species and ecosystems, local peoples and their livelihoods, national economies, and national and regional security is now increasingly well recognized. It is no longer solely a conservation issue – it is a sustainable development issue and one that impacts all three dimensions of sustainable development. 
In June 2012, Heads of State and government at Rio+20 explicitly recognized the economic, social and environmental impacts of illicit trafficking in wildlife, the need to take action on both the supply and demand sides, and the important role of CITES (the Convention on International Trade in Endangered Species of Wild Fauna and Flora). Rio+20 also described CITES as an international agreement that stands at the intersection between trade, the environment and development and it is recognized as the principal legal instrument that underpins collective global efforts.
In March 2013 CITES Parties heeded the call from Rio+20, when over 2,500 delegates from 174 States and observers gathered in Bangkok, Thailand for the 16th meeting of the Conference of the Parties and took strong, action-oriented decisions to combat illegal wildlife trade that address both demand and supply. The successful implementation of CITES, however, relies upon the contributions and ongoing commitment of, and collaboration between, multiple organizations and initiatives and staff coming from a wide range of disciplines both nationally and internationally. 
One outcome that resulted from this critical meeting of CITES Parties in 2013, though it is not contained in any written decision, was the focus on putting our collective energy into how we can solve the problem by working together across the entire illegal supply chain – source, transit and destination States – rather than seeking to apportion blame.
The benefits of this collaboration across source, transit and destination States are now increasingly evident – such as the excellent results achieved through Operation Cobra II, a joint enforcement initiative undertaken last year between 28 States across Asia, Africa and North America.
We have also seen five key intergovernmental agencies dealing with wildlife crime form a new alliance in 2010 called the International Consortium on Combating Wildlife Crime (ICCWC) – an initiative that is providing coordinated support and technical assistance to countries, such as through the deployment of multidisciplinary Wildlife Incident Support Teams to countries, upon request. 
The degradation of World Heritage Sites across Africa due to poaching for the illicit trade, such as the Selous Reserve in United Republic of Tanzania, is threatening major tourism and economic opportunities – and CITES and the UNESCO World Heritage Centre have joined forces to help implement CITES decisions in these sites.
The UN Office on Drugs and Crime, a member of ICCWC, the UN Development Programme and UN Environment Programme are all addressing illegal wildlife trade in line with their respective mandates and the implications for sustainable development and under the leadership of the UN Secretary-General, Ban Ki-moon, we have seen a scaled up and more coordinated effort being taken by UN agencies in combatting illegal wildlife trade.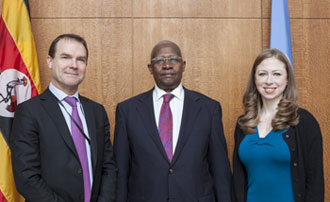 (left to right) John E. Scanlon, CITES Secretary-General, H.E. Sam Kutesa, President of the UN General Assembly and Chelsea Clinton
The issue has also been addressed by the UN Security Council, in the margins of the UN General Assembly at events hosted by Gabon and Germany, by ECOSOC, by the UN Environment Assembly, by the UN Commission on Crime Prevention and Criminal Justice, through multiple regional fora – and civil society from across all regions has been mobilized and is playing an indispensable role.
Outside of the UN system, we have also seen the deep engagement in this fight of INTERPOL and the World Customs Organization and of regional and global financial institutions including the African Development Bank, Asian Development Bank, the Global Environment Facility and the World Bank (as well as national donor agencies), as well as by private initiatives such as the Clinton Global Initiative. 
Overall, we are seeing better law enforcement, demand-reduction efforts and engagement with local communities across multiple countries – but more needs to be done. 
Law enforcement action and domestic demand reduction strategies remain a national responsibility and current international efforts are focused on building capacity and strengthening cross-border cooperation amongst source, transit and destination States, as well as supporting relevant bilateral, regional, and cross-regional enforcement and related efforts. We must be sure that support reaches the front lines – to the rangers, Customs officers, police, prosecutors and judges.
Today, we warmly welcome the political attention given to this critical issue on World Wildlife Day through this UN General Assembly Informal Plenary Meeting, which draws together the social, economic and environmental dimensions of these highly destructive crimes – including the links to the proposed Sustainable Development Goals and related targets. Illegal wildlife trade will seriously undermine efforts to achieve many of these Goals and targets, and we welcome the proposal to include targets related to illegal wildlife trade under proposed Goal 15.
Distinguished delegates, there is much more to be done but the growing level of political commitment that is evident here in New York, the front-line measures that are underway across source, transit and destination States, and the added momentum being generated from events such as this week's worldwide celebration of World Wildlife Day, convinces us that we can succeed through collective action. 
I conclude by expressing our support to the call made by the UN Secretary-General on World Wildlife Day yesterday to treat crimes against wildlife as a threat to our sustainable future and to get serious about wildlife crime.
Thank you.