For use of the media only;
not an official document.
PRESS RELEASE
Spotlight on wild species at CITES international meeting in Mexico
Levels of international trade in caviar, snake skins, live tortoises and freshwater turtles
and rosewood and ebony timber under review  
 
Geneva/Veracruz, 28 April 2014 – Over 300 global scientific experts specializing in reptiles, sturgeons, rare plants, tropical timber and other species are expected at the meetings of the Animals and Plants Committees which began today in Veracruz, Mexico.
Under the Convention on International Trade in Endangered Species of Wild Fauna and Flora (CITES), the Animal  and Plants Committees meet once a year and provide technical and scientific advice to help ensure the sustainability of global trade in wildlife products obtained from over 35,000 species protected (or listed) under the Convention.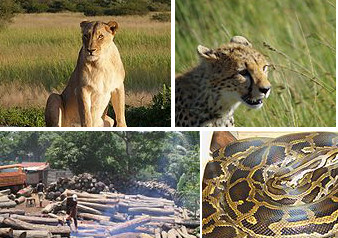 Among the key agenda items that will be discussed at these meetings are the levels of global commercial trade in products and derivatives of CITES-listed species over recent years, and the identification of cases of unsustainable use of species of conservation concern. For those species that are under trade pressure, the Committees will recommend actions to address over-exploitation and unsustainable use. 
Additionally, a number of species will be highlighted for special review, including an evaluation of progress on the Action Plan for Rosewood and Ebony timbers in Madagascar; addressing the impact of international trade on the conservation of lions and cheetahs; and specific actions related to snake skins used in the exotic leather industry and shark fins used as a food delicacy in Asia. 
In his comments on the preparations for the meetings, CITES Secretary General John E. Scanlon stated that "the science-based recommendations reached at meetings of the Animals and Plants Committees provide the Parties to CITES with the best available scientific information to inform their decisions on conserving and using sustainably wildlife."
"We are are most grateful to the Government and the people of Mexico for hosting these important meetings" added Scanlon.
A special two-day joint session of the two Committees will address issues of common concern, such as measures to build scientific capacity among the 180 Parties to the Convention.
Note to editors: The documents for the 27th meeting of the Animals Committee and the 21th meeting of the Plants Committees, are available at.
For more information, please contact Juan Carlos Vasquez at +41 22 917 8156 or
[email protected]