Wildlife enforcement networks from around the world meet to further strengthen
collaborative efforts against wildlife crime
Geneva, 26 August 2019 – The most recent global wildlife enforcement operation, codenamed Operation Thunderball, involved 109 countries. It resulted in over 1,800 seizures across all continents and the arrest of close to 600 suspects. The operation, which took place in June, also triggered multiple investigations and prosecutions worldwide. Such successful wildlife law-enforcement operations demonstrate what can be achieved when CITES Parties work together to crack down on wildlife crime.
The Third Global Meeting of Wildlife Enforcement Networks (WENs) was held in Geneva, Switzerland, from 21 to 22 August. It brought together over 105 representatives from WENs, law enforcement bodies, international organizations and other relevant stakeholders from around the world. They shared experiences on further strengthening collaborative efforts to combat wildlife crime at the regional, sub-regional and global levels.
The meeting was convened by the Secretariat of the Convention on International Trade in Endangered Species of Wild Fauna and Flora (CITES) and its partners in the International Consortium on Combating Wildlife Crime (ICCWC). Held alongside the 18th meeting of the Conference of the Parties to CITES (CoP18), the meeting was organized thanks to generous funds provided to ICCWC by the Department of State of the United States of America as part of its broader efforts to combat wildlife trafficking globally.
Marcia Bernicat, Principal Deputy Assistant Secretary of State for Oceans and International Environmental and Scientific Affairs, said, "I am here today because the United States remains determined to end the scourge that is transnational wildlife trafficking.   Wildlife trafficking threatens our values, our governance structures, and the rule of law. Cross-border and international cooperation, communication, and coordination are key to combating wildlife trafficking globally.  The United States supports regional WENs and global enforcement efforts, including by sponsoring this Third Global Meeting of WENs. By bringing together representatives from around the world, we are creating a network of dedicated officials, committed countries and organizations, and regional WENs working together across the world toward our shared goals. Only by working together can we put a halt to this insidious crime."
Delegates reviewed progress since the 2nd Global Meeting of WENs (Johannesburg, September 2016). They discussed how to follow-up on the outcomes agreed at that meeting by enhancing and strengthening cooperation and communication within their networks and with other networks.   These actions include the need to highlight WEN successes and make use of available tools, services and platforms. Operational support through the Thunder series of Operations supported by ICCWC were also highlighted, including the recent Operation Thunderball, coordinated by INTERPOL and the World Customs Organization.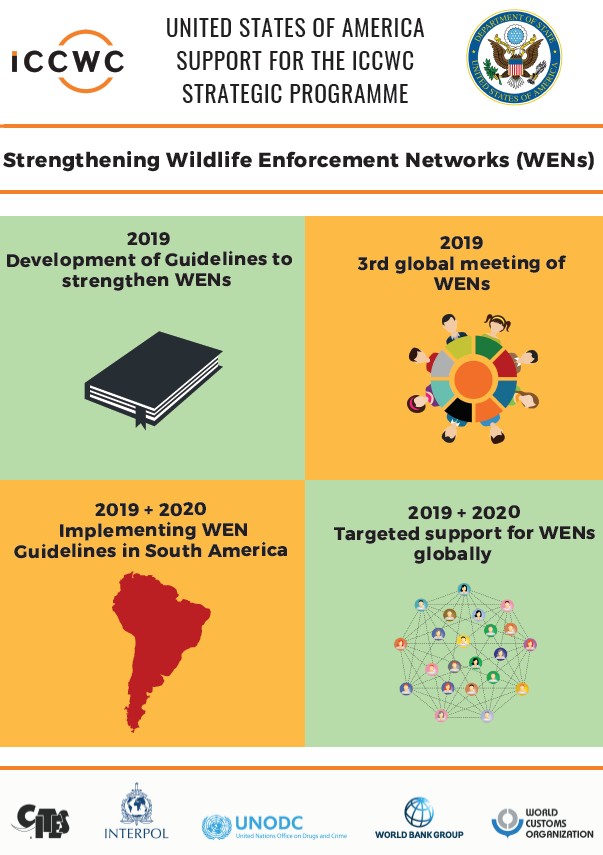 The meeting provided a platform for further enhancing synergies between existing initiatives and regional enforcement bodies, strengthening cooperation at regional and global levels, and exploring potential activities to be pursued with the aim of further strengthening responses to wildlife crime.
The meeting also engaged in targeted discussions to refine Guidelines for Wildlife Enforcement Networks. These guidelines will provide a self-assessment tool that can be used to establish a new WEN, or to strengthen an already existing WEN. The two-day meeting reviewed the proposed guidelines and provided concrete recommendations for strengthening and finalizing the self-assessment tool.
Ivonne Higuero, CITES Secretary-General, noted that "we have come a long way since the First Meeting of WENs was hosted by ICCWC in 2013, where the common elements and challenges faced by WENs across the world, and opportunities to enhance communication and collaboration between networks, were for the first time identified at a meeting of this nature. In 2016, the need to enhance the effectiveness of regional and sub-regional networks was highlighted, and we saw a move towards more concerted efforts as a result of the deliberations. It was then that networks requested ICCWC to develop guidelines for establishing and strengthening WENs so that efforts can be made where they are most needed. It is also where the idea behind the Thunder series of Operations was born. The results of these yearly operations supported by ICCWC speak for themselves. We now look forward to finalizing the guidelines and continuing to support the further strengthening collective efforts in the fight against wildlife crime." 
Key outcomes of the meeting included:
ICCWC to disseminate the WEN guidelines, once finalized, as well as to share information with WENs on ongoing activities, tools and services available through the Consortium;
WENs to make use, as appropriate, of the WEN guidelines, once finalized, to strengthen their respective networks and their regional responses to combating wildlife crime;
WENs and existing initiatives to continue to explore ways to strengthen their collaboration to combat wildlife crime with, in particular, the Financial and Transportation Task Forces, the Global Wildlife Programme, the Global coalition to end wildlife trafficking online, the U.S. International Law Enforcement Attaché Programme, and the Reducing Opportunities for Unlawful Transport of Endangered Species (ROUTES) Partnership, among others;
WENs to continue to enhance communication within their respective networks via available channels, to highlight their successes and to make use of available tools, services and platforms;
WENs and their member states to encourage increased participation at local, national and regional levels in activities and global operations supported by ICCWC and the INTERPOL Wildlife Crime Working Group and to explore possible needs based on tools and services available through the ICCWC Menu of Services and others;
ICCWC and the INTERPOL Wildlife Working group to consider targeted activities that could be undertaken in close collaboration with WENs to combat illegal trade in any of the over 20 key species and routes identified as priorities by the different regions during discussions at the WEN meeting, including strengthening efforts to combat illegal wildlife trade linked to the Internet.
The Third Global meeting of the WENs followed the first and second global meetings held respectively in the margins of CITES CoP16 in Thailand in 2013 and CoP17 in Johannesburg in 2016, which were also funded by the United States.
The full report of the meeting will be made available on the ICCWC website. 
About ICCWC
The ICCWC is a powerful collaboration between the CITES Secretariat, INTERPOL, the United Nations Office on Drugs and Crime, the World Bank and the World Customs Organization that seeks to strengthen criminal justice systems and provide coordinated support at national, regional and international level for combating wildlife and forest crime. The Consortium develops innovative tools and provides crucial services for the law enforcement community. It delivers coordinated enforcement support to ensure that national authorities are well-equipped to respond to the threat posed by transnational organized wildlife crime. 
Since the launch of ICCWC in 2010, the Consortium has delivered innovative tools and provided crucial services and technical support to the law enforcement community to strengthen responses to wildlife crime and support Parties to implement the Convention. Through the implementation of the ICCWC Strategic Programme 2016-2020, the Consortium has heightened its support by, among other activities, convening regional and global meetings for wildlife law enforcement officers, coordinating global operations and targeted investigations, enhancing the capacity of institutions along the law enforcement chain to ensure wildlife criminals are brought to justice, providing essential support services, and developing and implementing tools to strengthen responses to wildlife crime.
For more information on the Consortium's support to networks, please see: /eng/prog/iccwc.php/Action/report_second_global_meeting_WENs
For more information on ICCWC please visit: /eng/prog/iccwc.php
The #CoP18 document on the International Consortium on Combating Wildlife Crime (ICCWC) can be found on: /sites/default/files/eng/cop/18/doc/E-CoP18-015-05.pdf
An information document on the International Consortium on Combating Wildlife Crime  (ICCWC) submitted to #CoP18 can be found here.