PRESS RELEASE
The World Customs Organization (WCO) released its second edition of the Illicit Trade Report. The 2013 Report contains five sections, covering drugs; environment; IPR, health and safety; revenue and security. The Report builds on its first edition, the 2012 Report, and provides a comparative analysis of trends and patters in these five key risk areas of enforcement, based on Customs seizures reported through the WCO Customs Enforcement Network (CEN) database by its Members. The objective of the Report is to raise awareness on emerging threats, highlight Customs efforts and to contribute to the pool of information for studying the phenomenon of illegal trade.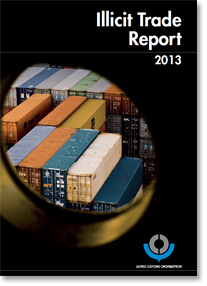 Being a global repository of data mainly on Customs seizures, the CEN database is a unique tool for global and regional analysis and the development of trends and patterns. It provides information on the activity of Customs administrations around the globe and challenges they face in their daily jobs. The database also contains valuable information on the new routings and modus operandi used by traffickers, smugglers and organized criminal networks.
Compared with the analysis of trends and patterns in the 2012 Report, the major conclusions in the 2013 Report include the following:
In all five areas an increase of the reporting countries was noted.
In the drugs area, the number of seizures relating to narcotics or psychotropic substances registered in CEN in 2013 was considerably higher than in 2012, with 51,381 and 43,771 seizures respectively. The quantities of substances seized in 2013 increased accordingly: overall, there were seizures of approximately 6,423 kg of heroin, 80,996 kg of cocaine, 1,588 tonnes of cannabis (resin and herbal), and over 168 tonnes of khat. There was a decrease in quantities seized for opium (1,726 kg) and psychotropic substances (385 tonnes).

In the area of illegal wildlife trade, rhino and elephant populations continue being the most common target in Africa with an overall upward trend in the number of poached animals. This trend is notwithstandingly demand driven, whereas rhino horns and ivory are becoming more popular in Asia, in particular. The illegal trade in hazardous and other waste continues being a serious global threat along with illegal trade in ozone-depleting substances.

For IPR, both an increase of the reporting countries and cases was observed (22,543 cases in 2012 and 24,092 cases in 2013). In 2013 one of the striking features was that more than half of the reported interceptions were illicit pharmaceutical products, followed by counterfeit electronic appliances and illicit foodstuffs – all of which threaten consumer health and safety. It is a dramatic change compared to 2012, where the majority of intercepted commodities were accessories, followed by clothing and pharmaceutical products which came in a third position. Another emerging trend observed during the last years is the increase of cases of domestic assembly in order to circumvent Customs controls: small parts and blank products are imported separately to be assembled in the country of destination.

In the area of excise goods, there was a slight increase in quantities of cigarettes, cigars and cheroots observed in 2013, while the number of seizures grew more substantially. There is a constant trend of an increase in seizures of chewing tobacco, observed since 2011. A substantial increase in seizures of raw tobacco was also noted. The 2013 edition of the Report also contains information on seizures of alcohol and alcoholic beverages, as well as a sub-section on money laundering.

The security section contains information on seizures of weapons, ammunition and explosives. The most often security related commodity observed in 2013 was ammunition, followed by handguns, scopes and magazines.
"Sharing this information with the public through analysis contained in the WCO Illicit Trade Reports is a contribution of the Customs community towards efforts to better understand the phenomenon of illicit trade. Developing more robust measurement methodologies and working with data should also serve as better guidance to policymakers working in this area", said WCO Secretary General, Kunio Mikuriya. He also thanked Customs administrations for providing information for the Report which reflects their commitment combating illicit trade.