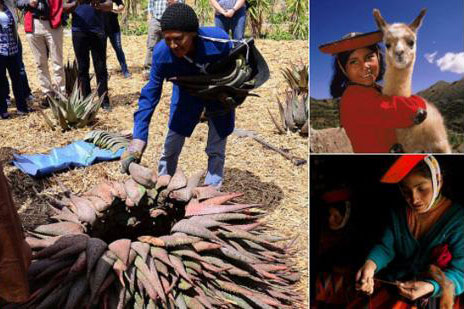 Geneva, 22 August 2019 - The engagement of local communities who live alongside wildlife with CITES is gaining increased attention at the triennial gathering of the world's wildlife trade regulator.
With a record seven agenda items on this topic on the table, this year's biggest global wildlife meeting devoted almost a full day to address the issue of rural communities and their livelihoods. A total of over 100 State Parties and observers took the floor to offer their views on various local communities-related topics. A 61-member working group, comprising government, civil society and community representatives, has been created to consider the issue in greater detail and report back to the conference. This is one of the largest in-session working groups to be established at CoP18.
Wild species of animals and plants are expected to become extinct over the next few decades at a more rapid rate than ever before largely as a result of human activities. One of the best ways to reduce these losses will be to build close and mutually beneficial relationships between humans and wildlife. The question of how rural communities can be best engaged in the CITES decision-making process, for example through a permanent committee in CITES, through mechanisms at the national level or other mechanisms, remains to be decided by the Parties.
"The mostly poor and vulnerable individuals who live closest to nature are at the frontline of the biodiversity crisis. By promoting partnerships between governments, local communities and the private sector, the legally binding CITES regime seeks to ensure that the people who live with wildlife see the value to them in its survival. Over the coming years we need to identify and explore with Parties untapped opportunities for local conservation action through partnerships," said CITES Secretary-General, Ivonne Higuero.

Countries around the world that are Parties to CITES have identified success stories that demonstrate how well-managed legal and sustainable trade in wild animals and plants can positively support both the livelihoods of rural communities and the conservation of species in the wild. Over 30 case studies have been collected recently from Africa, Asia, Europe, Oceania, North America and South America. They involve the sustainable use of a wide range of species, from mammals, reptiles, amphibians and fish to corals and medicinal aromatic plants. Ten of these stories were shared at a side event today during the meeting in Geneva.
One case from Georgia in Europe is about the humble snowdrop, a beautiful white flower whose bulbs are harvested from the wild for export around the world. The snowdrop is threatened by over-harvesting and the Government of Georgia works with exporting companies to engage rural communities to harvest, dry, store, pack and transport the wild bulbs. The result is that small-scale farmers in remote and poor rural areas benefit from international trade of wild flora and take action to ensure that wild snowdrop populations remain sustainable.
Another example is the Nile crocodile in Kenya. Valued for their skin, which is used to produce handbags and other luxury items, wild crocodiles have declined due to unsustainable trade as well as habitat destruction and other pressures. Working through CITES, the Government of Kenya engages villagers in coastal areas to collect eggs in the wild sustainably and sell them to one of three companies that hatch and rear them. These crocodile ranches also provide local employment and the economic interests of local communities are aligned with the long-term survival of the crocodile.
Perhaps the best-known CITES success story is vicuña, a relative of the camel that lives high in the Andes mountains in South America. While the experience of Peru is perhaps best-known, Bolivia too can boast great success with the vicuña, as described in a new case study.
Vicuña populations have steadily grown since the establishment of sustainable use through legal trade. Bolivia's population has increased from approximately 3,000 in 1969 to an estimated 163,331 in 2018.  Vicuña have become an economic asset to communities, rather than a livestock competitor for pasture, reducing poaching and motivating communities to carry out anti-poaching and conservation actions.
Other cases introduced include saltwater crocodile harvest and trade in Australia, Pirarucu fish harvesting and trade in Brazil, Inuit harvesting and trade of polar bears in Canada,
bighorn sheep hunting and trophy trade in Mexico, yellow-spotted river turtle harvesting and trade in Peru, Cape Aloe harvesting and trade in South Africa, and ibex and markhor trophy hunting in Tajikistan.
These new case studies on the positive impact of sustainable and legal trade in CITES-listed species have been conducted in response to CITES Resolution Conf. 16.6 (Rev. CoP17) which "recognizes that: a) empowerment of rural communities should be encouraged through measures that include, as appropriate: …, maximizing the benefits for rural communities of CITES implementation and trade concerned."
The CITES Secretariat would like to express its gratitude to the Government of Switzerland for supporting the development of the factsheets of the case studies on CITES and livelihoods.
See also:Factsheets of 10 new cases on CITES and livelihoods