CITES CoP17
Øystein Størkersen, Chair of CITES Standing Committee
Opening Speech
Johannesburg, 24 September 2016
Dear President, 
Ministers, dignitaries,
ladies and gentlemen,
friends of CITES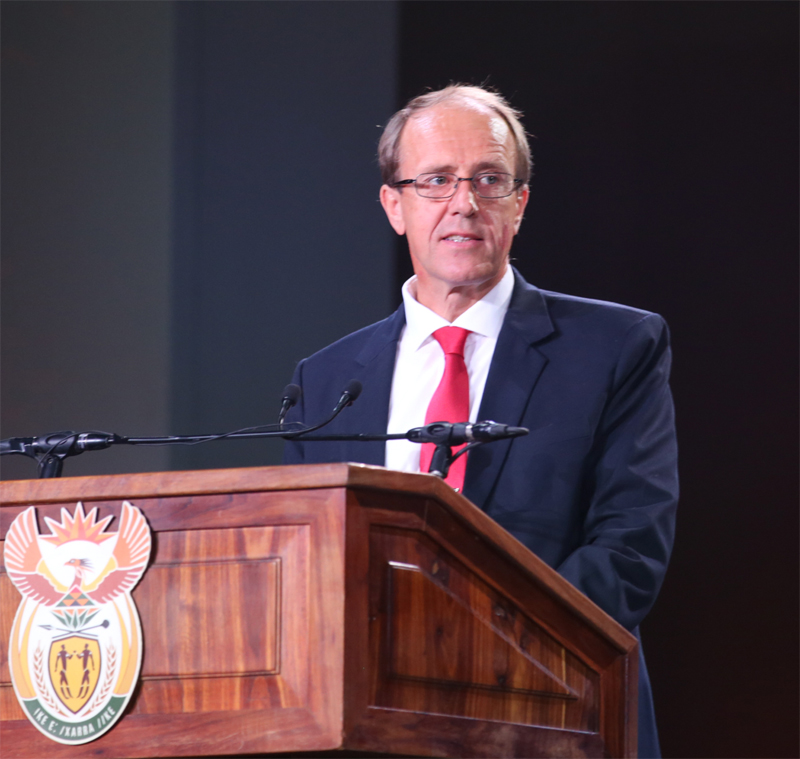 CITES celebrated its 40th anniversary at its last CoP in Bangkok in 2013. 40 years is not long when viewed from a biologists perspective, but I dare say that it is a when seen from the perspective of one person's lifetime.
The world has witnessed dramatic changes on multiple fronts since the early seventies, while the text of the Convention of 1973 is basically the same, with the exception of the Gaborone amendment concerning membership of REIOs.
Resolutions, decisions, changes to the species on the Appendices and the making of annotations has been the approach taken by CITES to addressing new challenges. In fact, this how we have kept the Convention alive and relevant over 43 years, and this ongoing evolution will no doubt continue.
One of the main challenges is in my view – as I have mentioned many times before at the Standing Committee – to focus on compliance and the implementation of the Convention and its resolutions at the national level.
By way of example we still have about 50% of Parties with legislation that does not yet fully meet CITES requirements.  Yet domestic legislation is an issue we should be able to resolve with increased political will backed by sound technical support. The technical support is there but needs further resourcing – it seems it is the necessary political support that is lacking, although fortunately this now seems to be changing.
Over the last two trienniums we have seen many great innovations that have significantly pushed the CITES agenda forward. It is fair to say that today most people engaged with biodiversity conventions realize that we need to collaborate amongst the conventions and with other relevant entities. Maybe this was not the case only 10-15 years ago but it is now.
There are today various ongoing processes and initiatives that are enabling pragmatic collaboration and from my vantage point I feel CITES has led the way here. I am particularly pleased with the progress made with the GEF and how the Biodiversity Liaison Group has worked together so well.
However, maybe the most important activity over the last six years has been CITES focus on collaboration with important entities falling outside of the conservation community, like FAO, ITTO, the World Bank, INTERPOL, UNODC, the World Customs Organization, UNDP and many others.
As an example, the International Consortium of Combating Wildlife Crime, or ICCWC, has been very beneficial for CITES Parties. I need to pay credit to our Secretary General for the vision he has showed and his relentless pursuit of this bold initiative, as well as through his, and the Secretariat's, deep engagement with many other organizations.
ICCWC is a great success, but it is by far not the only one. One other example I feel very proud of is the National Ivory Action Plans or NIAPs. These NIAPs have been well received and have led to real and effective measurable actions being taken at the national level. A lot has been achieved in a very short space of time and the Parties concerned are to be commended for what they have done.
It has however been yet another task that has greatly increased the workload of an already stretched Secretariat. Our Secretariat is small in number and large in its outputs but there is a limit to what we can demand from just 22 core staff. The work of the CoP17 budget working group surely must reflect on this issue and now start to rebuild the resources of the CITES Secretariat.
As you know, we have as of this summer a new Executive Director of UNEP, Mr. Erik Solheim. He has taken on his new role at UNEP at a time when the world sees huge challenges related to our environment and how this links to human wellbeing. Both of us come from the same country, and I know that Erik is extremely dedicated and that he likes ambitious targets! This is exactly what we need today.  In his capacity as former Minister of the Environment in Norway he excelled and I take this opportunity to welcome him to a very important job, and hope that he will recognize the critical importance of CITES as a very effective agreement, and one that stands at the intersection of trade, the environment  and development.  
My two intersessional terms as the Standing Committee Chair will come to an end at this CoP. In this period I can as testify that we have dedicated and professional members of the Standing Committee, and there are certainly many supportive IGOs and NGOs that are also deeply committed to CITES.
I would also like to thank our truly professional and hard-working Secretariat, and its exceptional Secretary General, John Scanlon, all of whom have provided both me and our Committee with wonderful support.  We could not have hoped for anything more.
In this context, there is no doubt for me that in 2016 CITES is a vibrant and innovative Convention, one that is even more critical to the survival of our wildlife than when it was adopted in 1973. And it is today well placed to make a major contribution towards achieving the UN Sustainable Development Goals and Strategic Plan on Biodiversity.
As this CoP will be my last where I address you as your Standing Committee Chair, I take this opportunity to once more thank you all for your tremendous efforts and support over the last six years and also I hope that you also found my efforts to be acceptable.
Thank you very much and best wishes for a successful CoP17.