The International Consortium on Combating Wildlife Crime (ICCWC) today announced the launch of a new web portal, designed to support capacity-building efforts by improving access to information on ICCWC tools and activities to combat wildlife and forest crime.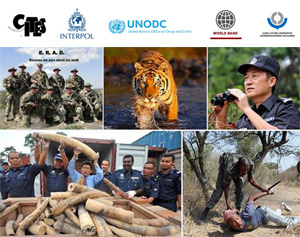 The dedicated portal on ICCWC, available through the CITES website (www.cites.org), provides up-to-date and expanded information on the many tools that ICCWC makes available to support national enforcement agencies and regional enforcement networks in their fight against poaching and illicit trade in wildlife and forest products.
Alongside information on the ICCWC Wildlife and Forest Crime Analytic Toolkit, the web portal links to other materials of ICCWC partners, such as the course for enforcement officials on the CITES Virtual College, Customs e-learning resources of the World Customs Organization, and global communication and information-exchange tools administered by INTERPOL and the World Customs Organization.
The portal will also help raise public awareness by providing information on the scale and nature of wildlife crime and the significant threats that it poses to individual species, ecosystems, economies and livelihoods. Improved public access to information is also facilitated by an intuitive easy-to-use interface and by the availability of English, French and Spanish versions of the portal.
CITES Secretary General, Mr. John E. Scanlon, announced the launch of the new web portal on behalf of ICCWC partners, stating "Since its establishment in 2010 ICCWC has enhanced national and regional capacity and cooperation to combat wildlife and forest crime. The new ICCWC web portal showcases what ICCWC is doing to help combat wildlife crime and the practical tools made available through the consortium."
ICCWC is a collaboration between the CITES Secretariat, INTERPOL, the United Nations Office on Drugs and Crime, the World Bank, and the World Customs Organization, established to improve global, regional and subregional cooperation and capacity to combat wildlife crime. Information about ICCWC's approach to combating wildlife and forest crime, and the expertise and capacity that each partner organization brings to the consortium, can be found on the web portal.
The ICCWC web portal can be viewed at:
/eng/prog/ICCWC.php (in English)
/fra/prog/ICCWC.php (in French)
/esp/prog/ICCWC.php (in Spanish).