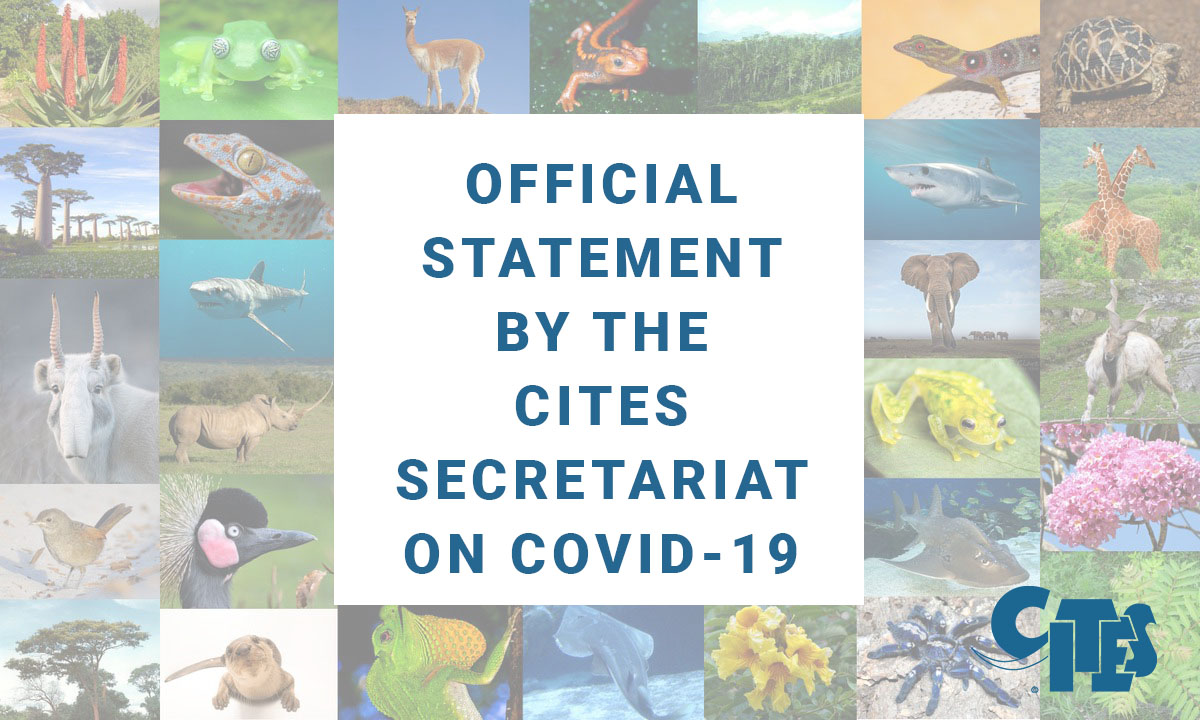 The Convention on International Trade in Endangered Species of Wild Fauna and Flora (CITES) is a treaty that regulates international trade in CITES-listed specimens of animals and plants. Therefore, the concerns of the CITES Parties are focused on regulating international trade. Matters regarding zoonotic diseases are outside of CITES's mandate, and therefore the CITES Secretariat does not have the competence to make comments regarding the recent news on the possible links between human consumption of wild animals and COVID-19.
In case of queries regarding zoonotic diseases, we suggest that you refer to those bodies working on these matters such as the World Organization for Animal Health (OIE), the Food and Agriculture Organization of the United Nations (FAO) and other competent bodies and research institutions at both international and national levels.
The CITES Secretariat is aware of the media commentary that is suggesting the possible links between the human consumption of pangolins (or other wild animals) and COVID-19. All species of pangolin are included in CITES Appendix I, which means that international commercial trade is generally prohibited under the Convention. Exchange for non-commercial purposes, such as conservation or law enforcement, can be authorized by CITES Parties; Parties may also introduce measures that are stricter than that which is set out by the Convention. This applies to all animal and plant species included in Appendix I. It is important to note that trade in CITES-listed species within a given country is governed by the relevant laws of that jurisdiction.
At the request of the CITES Management Authority of China, the Secretariat has issued a Notification to Parties No. 2020/018 concerning China's urgent measures regarding wildlife trade regulation on 5 March 2020. It states that China's Standing Committee of the National People's Congress adopted a Decision to eliminate the consumption for food of wild animals to safeguard people's lives and health, which came in force with immediate effect.
Whilst legal, sustainable and traceable trade regulated at the international level by CITES has many benefits for both people and wildlife, illegal trade in wildlife has significant economic, social and environmental impacts. The Secretariat continues to work with source, transit and destination countries through compliance assistance and enforcement activities, including with the partners of the International Consortium on Combating Wildlife Crime (ICCWC), so that Parties are supported where needed and have the tools they need to combat illegal wildlife trade.
We are observing key Parties that are affected by illegal trade in wildlife also scaling up efforts and implementing strong measures regarding wildlife trade regulation at domestic level. These activities and measures will inevitably impact on, and contribute to, addressing transnational wildlife crime more effectively. These measures will also contribute to the effective implementation and enforcement of the Convention and the conservation of CITES-listed species.