Opening remarks at the high-level event at UN Headquarters marking World Wildlife Day 2020
CITES Secretary-General Ivonne Higuero
3 March 2020, UN Headqurters, New York
Excellencies,
Distinguished guests,
Friends and colleagues: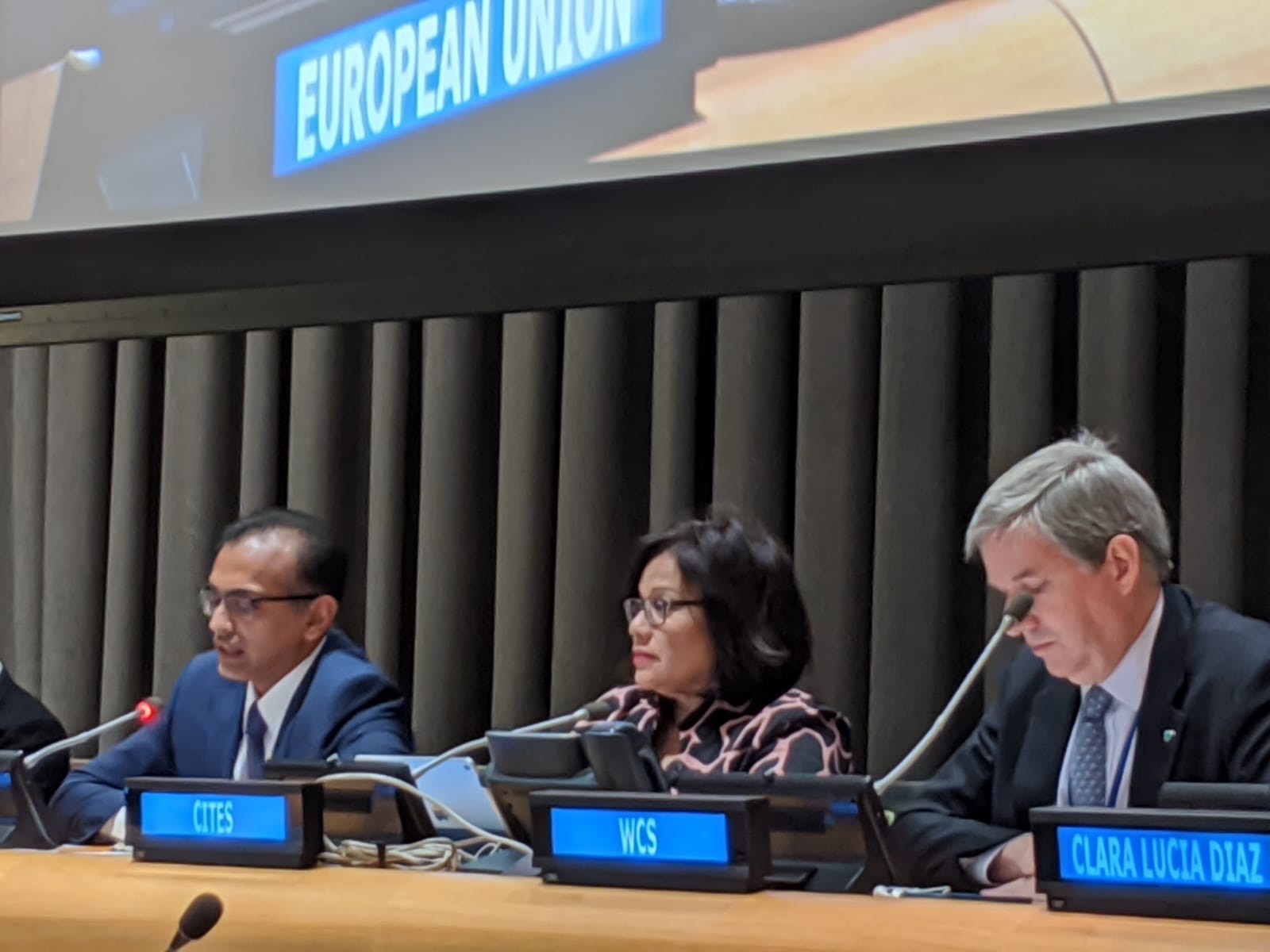 I am honoured to welcome you all as one of the hosts of the 2020 UN World Wildlife Day celebrations. Thank you for taking the time to join us in celebrating the wildlife with which we share this planet.
Wild plants and animals are the bedrock of life in this world. Our own species has been shaped by our interaction with these lifeforms. Since the beginning, humans have used wildlife, their habitats and their ecosystems to satisfy our basic needs. From the air we breathe, and the food we eat, to the materials we use for our shelter or comfort. We continue to do so to this day.
From this historic interplay, we have built our civilizations and our modern prosperity. However, these cannot last if they are built at the expense of wildlife.
Increasingly, unsustainable exploitation of wild plants and animals has become a threat to the long-term survival of many species. The 2019 Global Assessment by the Intergovernmental Platform for Biodiversity and Ecosystem Services makes plain the extent of the biodiversity loss crisis that we currently face: up to a million species could become extinct in the coming decades; and extinction rates are up to thousands of times higher than at any point in human history. Over the last four decades, some populations of birds, fish, mammals, amphibians and reptiles have declined by nearly 60%.
This decline of so many species is an existential threat and it is now urgent to recognize the value of biodiversity and its components such as wild plants and animals. The World Economic Forum has said that one attempt to put a monetary value on the goods and services they provide comes to an estimate of $33 trillion a year. Their Global Risks Report lists the danger to biodiversity from human activity as one of the top five risks over the next 10 years. They go on to say that mitigating the impact of biodiversity loss requires a fundamental shift in economic thought. Businesses should develop metrics that assess the value of nature to their work and make these central to their decision-making. Extractives, construction, energy, fashion and textiles are among the industries most vulnerable to ecological destruction.
But we do not only rely on wildlife for our comfort and well-being, billions of people also depend on it for their livelihoods. Continued biodiversity loss endangers the survival of wild animal and plant and human development itself.
Without a thriving wildlife, Sustainable Development Goals 14 (On Life Below water) and 15 (On Life on Land) cannot be achieved; but neither can many others such as goals 1 (No Poverty) or 12 (sustainable consumption and production).
We are at a turning point for ourselves and the biosphere. We face the challenge of making sure our way of life is in harmony with nature. We must fulfill our own needs, of course; but we must do so responsibly - and without neglecting the needs of the animal and plant species with which we coexist.
I don't want to give you the impression that there is no hope. Living in harmony with nature is possible but we need to make transformative changes NOW. The work of CITES Parties and CITES partners has shown how regulating the use of wild species of flora and fauna and the resources it provides can benefit both people and planet.
Whether it's controlled farming of Bolivian vicuñas for wool; managed but profitable harvesting of saltwater crocodiles by Aboriginal groups in Australia; or sustainable tapping of aloe plants in South Africa, it all points in the same direction: multi-stakeholder efforts to implement a strong framework regulating the use of wildlife can and do yield results.
They make the use of wildlife sustainable, benefiting communities and countries who most need it, and they bolster the conservation of all species involved.
Making the sustainable use of wildlife the norm and not the exception will require meaningful actions.
But we can do it.
The signing of CITES, on this day, 47 years ago, marked a significant shift at the time. Today, CITES Parties continue to work to ensure that international trade in wild species of flora and fauna does not impact their long-term survival. This is supported by CITES partners working to implement CITES and through joint programmes with other biodiversity related conventions.
We know these efforts will continue bearing fruit, and we look forward to hearing more of these success stories at our next Conference of the Parties, and at those of our sister Conventions.
Ladies and Gentlemen,
Let's be even more ambitious than we have been so far. Let's work harder for a better balance between meeting our needs and conserving biodiversity. Governments, organizations, civil society and community groups, industry and private sector actors: this mission is in the hands of all of us. If you ask me what transformative change means, I would say: it is when all relevant stakeholders fully meet their international environmental obligations and commitments.
In this 'Super Year" for Biodiversity we must bend the curve of Biodiversity loss before it is too late. We have to make sure that future generations can continue to responsibly reap the benefits of a thriving wildlife. Let us lay the foundations of a world that can sustain all life on Earth.
Thank you.