Asian regional consultative workshop on capacity assessments for the
implementation of new CITES listings of sharks and manta rays
Xiamen, China, 13-15 May 2014
Address by CITES Secretary-General John E. Scanlon
Mr Liu Dongsheng, Vice Administrator, State Forestry Administration;
Mr Zhao Xingwu, Director General, Bureau of Fisheries and Fisheries Law Enforcement, Ministry of Agriculture;
Dr. Meng Xianlin, Executive Director General, CITES Management Authority of China;
Distinguished delegates, friends and colleagues;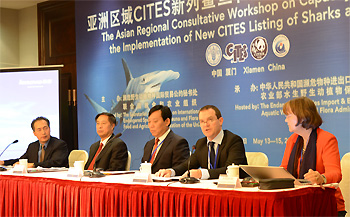 I would like to express my sincere thanks to the Chinese Government for hosting this joint FAO/CITES Regional consultative workshop on sharks and manta rays for Asia, and for kindly inviting me to Xiamen to share some brief remarks with you today. 
At the 16th meeting of the Conference of the Parties to CITES (CoP16) held last year, CITES Parties agreed to regulate international trade in five new shark species and all manta rays through an Appendix II listing. 
CoP16 did not mark the first time that sharks were included in the CITES Appendices, which now includes eight species of sharks on Appendix II. But these new listings were significant for many reasons, including because the new shark species are commercially valuable and internationally traded - in some instances in high volumes. 
The entry into effect of these new listings were delayed until 14 September 2014, to give Parties time to resolve technical and administrative issues related to implementation – noting that an Appendix II listing does not prohibit commercial international trade but strictly regulates such trade to ensure it is legal, sustainable and traceable. 
Our host, China, advised the CITES Secretariat in June 2013 that, in spite of its opposition to the inclusion of these shark species in the CITES Appendices at CoP16, and of ongoing concerns regarding implementation, it would apply the CITES decisions and, as a result, did not enter any reservation. Today's meeting is a clear expression of China's commitment to implementation and I would like to acknowledge China's generous financial and logistical support to this regional workshop. 
And it is the effective implementation of these decisions that really matters now – and we are doing everything we can to assist CITES Parties, especially developing countries, in being able to comply with the CITES requirements by 14 September, just 4 months from now. 
This global effort is greatly benefiting from the excellent support coming from a wide-range of stakeholders - Parties, IGOs, NGOs and others - and we thank everyone who is assisting in this collective effort.
The CITES Secretariat received a generous contribution of Euro 1.2 million in funding from the European Union to support these new sharks and manta ray listings - and I would like to acknowledge the presence of representatives of the European Commission here with us today and to thank them for their continued strong support to CITES. 
CITES is sharing part of these EU funds with FAO to support the implementation of CoP16 decisions by CITES Parties and to help bring the fisheries and CITES sectors together in key shark fishing and trading nations. This is the second regional meeting being organized with the support of FAO through this arrangement - and I would like to recognise the presence of colleagues from FAO with us here today and to thank them for their ongoing close collaboration. 
CITES and FAO are hoping that the success achieved in Morocco earlier this year in the Regional consultative workshop capacity assessments for the implementation of the new CITES listings of sharks and manta rays for key African States can be replicated for Asia, here in Xiamen. 
The CITES Secretariat has also supported CITES Parties in their regional and sub-regional efforts. We have provided financial and technical support to Latin America and the Caribbean and Oceania, which organized their own workshops, hosted by Brazil and Australia respectively, to assess their readiness to implement the new listings. FAO and CITES will be supporting the follow-up activities agreed at these meetings. 
The CITES Secretariat is also currently in discussion with the CITES Management Authority of India to support their efforts to bring together the countries in the Bay of Bengal region towards the implementation of the new listings of sharks and manta rays. 
The significance of addressing the implementation issues of the sharks and rays listings taken at CoP16 in Asia cannot be overstated. Asia is the world's most important shark fishing region as well as a major consuming region . It represents half of the world's top 20 shark fishing nations and accounts for close to 50% of global catch. Some people may find it surprising that our host country, China, while a major consumer, is not among the top 20 shark fishing countries. 
Your governments have been invited to take part in this important consultative workshop to assess your countries readiness to implement the new listings and determine how CITES and FAO can further support your priority capacity building needs, such as in making non-detriment and legal acquisition findings. 
CITES Parties and their Secretariat have found a very constructive way to work together with FAO that accommodates differing views on some conceptual issues. This has allowed us to move forward in a positive manner and to focus on more pragmatic issues surrounding the sustainable use of marine resources.
In reflecting this successful relationship between CITES and FAO, I hope that the national representatives from CITES Authorities and fisheries agencies present here today will also be able to find a way to collaborate on the sustainable use and trade of shark products. 
This week's workshop consists of representatives of 13 important shark-fishing countries (China, India, Indonesia, Iran, Republic of Korea, Malaysia, Maldives, Pakistan, Singapore, Sri Lanka, Thailand, Yemen, and United Arab Emirates), plus Japan and the European Commission as observer.
We also recognize the importance of working closely with appropriate sub-regional or regional organizations in the conservation and management of fisheries resources - and we are delighted to acknowledge the participation of representatives from the Commission for the Conservation of Southern Bluefin Tuna (CCSBT), Southeast Asian Fisheries Development and Education Center (SEAFDEC), and Secretariat of the Pacific Community (SPC). 
Thank you to our generous host, China, for its warm hospitality and impeccable arrangements for this meeting, to our colleagues at FAO - and to all of the participants here today for being prepared to work together to ensure that future international trade in CITES-listed sharks and rays is legal, sustainable and traceable.