Opening Remarks by John E. Scanlon, CITES Secretary-General
at the Sixty-fifth meeting of the Standing Committee
Geneva (Switzerland), 7 July 2014
Thank you Chair and I would like to join with you in extending a very warm welcome to the Standing Committee Members, their alternates, Party Observers, and Inter-governmental organizations, international and national non-governmental organizations and the private sector. 
To those distinguished participants who are observing the month of fasting, I wish to say Ramadan Kareem and wish you a happy and blessed month.
-----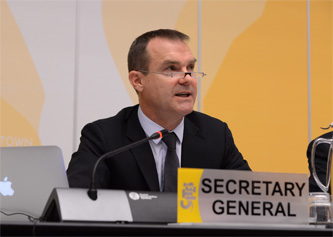 The 16th meeting of the Conference of the Parties held in Bangkok last March (CoP 16) was a milestone event, with record attendance and where multiple significant resolutions and decisions were agreed – and CITES Parties, this Committee, and the Secretariat all have their work cut out for them. 
After such an extraordinary CoP, we now have a record number of participants registered for this Standing Committee meeting. Together with visitors, we expect over 400 people to attend this week's meeting coming from 72 States Parties, 14 intergovernmental organizations, 56 NGOs and 11 private sector organizations. 
Veterans of this process remind me that in years past the 19 members of the Standing Committee would meet in small conference room – but that is no more. 
Today, these meetings are akin to mini Conferences of the Parties – with long and detailed agendas, many supporting documents, high numbers of participants, multiple side events, and deep media interest.  We are also seeing record numbers attending our science committees. 
This level of interest in the work of all of our committees is a positive and welcome development.  It is no longer an exception but the new norm and is something we must plan and budget for.
-----
We have a long agenda with over 50 Items including critical Items dealing with: species under threat from illegal wildlife trade – including elephants and rosewood; enhancing the sustainability and traceability of species legally in trade – including snakes and sharks, and reviewing the status of national reporting and legislation.
Since CoP 16 the Secretariat has focused much of its efforts on combating illegal wildlife trade, assisting with new timber listings – especially in Madagascar, supporting capacity building efforts – especially with legislation, attracting additional financial support to support national implementation, and preparing for the new sharks and manta rays listing coming into effect in September.
We have also organized two highly successful scientific committee meetings in Veracruz, Mexico, and I would like to extend our most sincere gratitude to the Government and people of Mexico and the State of Veracruz for their generosity, warm hospitality and impeccable arrangements in hosting these meetings. 
While in Veracruz, we awarded the first ever Certificate of Merit to the Comisión Nacional para el Conocimiento y Uso de la Biodiversidad (CONABIO) for its role as CITES Scientific Authority of Mexico and its exemplary commitment to national implementation and global policy.  Congratulations once again to CONABIO for this well deserved recognition of its extraordinary work.
-----
When I first addressed this Committee at its 61st meeting in 2011, we noted that CITES was more relevant than ever but that this fact was not yet reflected in the level of political support or financing for the Convention.
At that time, I reported to this Committee that we were engaging in an effort to reach out and better connect CITES to broader policy objectives – noting the upcoming Rio+20, and to a wider range of partners.
Our stated objective was to help the World rediscover the importance of CITES both in its own right and for the contribution that it makes towards other relevant global goals and targets.
Three years on, we can report that due to the efforts of so many this objective has been achieved – with unprecedented levels of political support being shown for CITES, as well as a direct interest in supporting its implementation coming from a wide array of partners within and outside of the UN system. By way of example:
-      On enforcement, the International Consortium on Combatting Wildlife Crime (ICCWC) is now fully operational and is supporting national and regional enforcement efforts in multiple ways that will be highlighted this week.  ICCWC has won universal acclaim and support – and at this meeting we will be launching the ICCWC Strategic Mission for 2014-2016;
-      On financing, we led the way in encouraging the Global Environment Facility (GEF) to view illegal wildlife trade as a priority issue deserving its attention, and we have deepened our cooperation the Asian Development Bank and other donors – and just last week we announced a new EURO 12 million project funded by the European Union (EU) for minimizing the Illegal killing of elephants and other endangered species or MIKES;
-      On technical support, we have deepened our engagement with FAO on marine species, ITTO on timber species, UNESCO on World Heritage sites, UNEP-WCMC on data and reporting, and the UNDP on coordinated country level support, including in Madagascar through the Resident Coordinator;
-      On sustainability, in addition to our work with FAO and ITTO, we have engaged directly with UNCTAD and the International Trade Centreon the sustainability of trade in Appendix II listed species; and
-      On biodiversity, CoP 16 adopted a revised Strategic Vision that links CITES implementation to the Strategic Plan on Biodiversity, the achievement of its Aichi Biodiversity Targets and to the National Biodiversity Strategy and Action Plans (NBSAP) process.
This very brief and incomplete snapshot demonstrates that CITES is today an outstanding international example of a convention that is working cooperatively and collaboratively across multiple organizations and disciplines to enhance national implementation – and with organizations dealing with issues as diverse as trade, environment, development, enforcement and financing.
In the UN this may be referred to as 'synergies' – which we have collectively pursued in a pragmatic and effective manner to best serve the interests of our Parties in meeting their international commitments. 
-----
As regards political support, we have prepared a flow chart showing recent high-level events and initiatives that have addressed illegal wildlife trade starting with Rio+20 in June 2012 – and which is included as Information document. 
There is insufficient time to run through all of them but it includes events hosted in: Marrakesh by the President of the African Development Bank; in New York by the President of Gabon and Foreign Minister of Germany, as well as the former US Secretary of State; in Gaborone by the President of Botswana; in Paris by the President of France, and in London by the Royal Family and Secretary of State.
The UN Security Council, ECOSOC, and the UN Commission on Crime Prevention and Criminal Justice have addressed the relationship between illegal wildlife trade and national and regional security and the links to serious transnational organized crime and rebel militia.
The Administrator of the UNDP has launched country led initiatives in Kenya with the First Lady and in Tanzania with the President; the UN Environment Assembly considered illegal wildlife trade – and in particular its environmental impacts, at its first meeting held last week, and in June the GEF Assembly and Council adopted a new Global programme that for the first time recognizes that "illegal trade in wildlife and wildlife parts is an emerging driver of biodiversity loss" opening up a window for eligible Parties to access GEF funding to combat illegal wildlife trade.
We have also seen national political support at the highest levels – from President's, Prime Ministers and Premiers – across all regions – as well as from many committed individuals who are in the public eye and are prepared to lend their personal support to the global effort to combat illegal wildlife trade.
These achievements are the result of the efforts of so many governments, institutions and people and civil society has also played an indispensable role in this collective effort – many of which are represented here today. 
This unprecedented level of political, institutional and public interest in CITES issues is critical to generating the financial and technical support that is required in the front lines to effectively implement the convention – both in combating illegal trade and ensuring the sustainability of trade in Appendix II listed species. 
It cannot however become an end in itself and we must keep our focus on what is happening on the front lines, as this is where our support is needed most. 
-----
CITES is the international legal instrument that underpins these many and varied Global, regional and national efforts. 
The principal role of CITES in regulating international trade in wildlife - both in combating illegal trade and facilitating legal, sustainable and traceable trade, has been reaffirmed through multiple declarations and resolutions - from Rio+20 in June 2012 to the UNEA resolution from last week.
The international community now looks to this Committee to review progress against the significant outcomes of CoP 16, to support States in their collective efforts to implement CITES, and, where appropriate, to make use of the compliance measures that the Parties to the Convention have entrusted to this Committee.
Finally, I would like to thank you Chair for your generous opening remarks and for your deep commitment to CITES - as always, the Committee will have the full support of its Secretariat as the Committee works through the many important matters it has before it.
Thank you.