For use of the media only;
not an official document.
PRESS RELEASE
300 Science Experts Review Sustainability of CITES Wildlife Trade
Cheetahs, timber trade, polar bears, snakes, macaque monkeys, chameleons, seahorses and euphorbia
plants feature strongly in scientific meetings of CITES
Geneva/Veracruz, 9 May 2014 – Around 300 global scientific experts specializing in reptiles, sturgeons, rare plants, tropical timber and other species gathered for meetings of the CITES Animals and Plants Committees in Veracruz, Mexico from 28 April to 8 May 2014.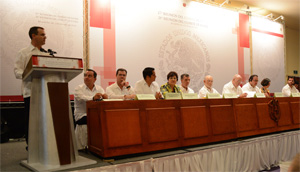 CITES Secretary-General John E. Scanlon announcing the Certificate of Merit awarded to CONABIO at the Opening Session of the Animals and Plants Committees (more photos available on CITES Flickr page
Under the Convention on International Trade in Endangered Species of Wild Fauna and Flora (CITES), the Animal  and Plants Committees meet once a year and provide technical and scientific advice to help ensure the sustainability of global trade in wildlife and its products obtained from over 35,000 species protected  under the Convention.
The Chairs of the two committees were elected at the meetings, with Ms. Carolina Caceres elected Chair of the Animals Committee and Professor Margarita Clemente Muñoz elected as Chair of the Plants Committee.  
The Committees recommended specific actions by various States to bring international  trade in: Long-tailed macaque monkeys, Fischer's two-horned chameleons, West African and Asian three-spot seahorses and Euphorbia itremensis, back to sustainable levels. The Committees expressed concern about the sustainability of international trade in specimens of a number of other species including: polar bears, pangolins, tortoises and turtles and butterflies and will be examining these cases in more detail at their next meetings in 2015.
The Committees observed the trend of increasing international trade in specimens of CITES species to be derived from captive bred or artificially propagated sources. However, it is often difficult to decide whether specimens come from wild or non-wild source and to properly regulate this trade. The Committees will be examining this issue in more detail in future, taking account of the results of commissioned studies of these practices for snakes and sturgeons and of a workshop to be held in India reviewing plantations-sourced timber and other products from trees. 
The Animals Committee expressed concern about effects of illegal trade in cheetahs on the status of this species, particularly in north-east Africa. They will draw this to the attention of the CITES Standing Committee, when it meets in July 2014. At the same meeting the Animals Committee will also suggest the need for the Standing Committee to consider a traceability system for snake skins in international trade and that stockpiles of python skins in southeast Asian countries be inventoried and tagged.
With respect to trade in shark and ray species, progress in planning for the entry into force of controls on international trade in five new shark species and all manta rays on 14 September 2014 were reviewed. Measures taken by the CITES Secretariat in conjunction with the Food and Agriculture Organization of the United Nations (FAO) were welcomed but further actions were called for, especially in relation to methodologies for determining sustainability and identification of shark and ray products in trade.
The Plants Committee commended Madagascar for its efforts to bring the trade in rosewood and ebony timber under control and hoped that Madagascar could soon join benefit from the successful CITES-International Tropical Timber Organization programme that has done much to improve CITES implementation for CITES-listed tropical timber species.
On this occasion, the Animals and Plants Committees also held a joint session to address matters of common interest with the Opening Session being attended by Dr. Javier Duarte De Ochoa, Governor of the State of Veracruz, Hon. Juan José Guerra Abud, Federal Minister for the Environment and Natural Resources, Guillermo Haro Bélchez, Federal Prosecutor for Environment Protection, Dr. José Sarukhán Kermez, Coordinator of Comisión Nacional para el Conocimiento y Uso de la Biodiversidad (CONABIO), Carolina Céceres, Chair of the Animals Committee, Professor Margarita Clemente Muñoz, Chair of the Plants Committee and John E. Scanlon, CITES Secretary-General. 
The CITES management, scientific and enforcement authorities of Mexico were all represented at the highest level during the Opening Session reflecting the strong commitment of Mexico to the effective implementation of CITES. 
During the course of the Opening Ceremony for the joint session the Secretary-General of CITES awarded the first ever CITES Secretary-General's Certificate of Merit for Science to CONABIO. In its role as CITES Scientific Authority of Mexico CONABIO has made a major contribution to the development of science in the Convention in recent years.
In his comments on the meetings, CITES Secretary General John E. Scanlon stated that "the science-based recommendations reached by the Animals and Plants Committees have provided the Parties to CITES with the best available scientific information to inform their decisions on conserving and using sustainably wildlife.  We extend our deep gratitude to the Committee members and to all of the participants in these meetings for volunteering their time and expertise to CITES."
"We are also most grateful to the Government and the people of Mexico and the State of Veracruz for hosting these important and highly productive meetings" added Scanlon.
The next meeting of the Animals Committee is expected to be held in Israel and that of the Plants Committee in Georgia in the first half of 2015.
Note to editors:The documents for the 27th meeting of the Animals Committee and the 21th meeting of the Plants Committees, are available at:
See also:
Spotlight on wild species at CITES international meeting in Mexico
Mexico's scientists commended for contributions to implementation of CITES
About CITES
With 180 Member States, CITES remains one of the world's most powerful tools for biodiversity conservation through the regulation of trade in wild fauna and flora. Thousands of species are internationally traded and used by people in their daily lives for food, housing, health care, ecotourism, cosmetics or fashion. 
CITES regulates international trade in over 35,000 species of plants and animals, including their products and derivatives, ensuring their survival in the wild with benefits for the livelihoods of local people and the global environment. The CITES permit system seeks to ensure that international trade in listed species is sustainable, legal and traceable.
CITES was adopted in Washington D.C. on 3 March 1973. The First World Wildlife Day will be celebrated on 3 March 2014 which coincides with the signing of the Convention.
Learn more about CITES by visiting www.cites.org or connecting to:
www.facebook.com/CITES.org
www.twitter.com/citesconvention
www.youtube.com/citesvd
www.flickr.com/cites
For more information, please contact Juan Carlos Vasquez at +41 22 917 8156 or [email protected].