Forty delegates from 15 countries attended an Asian regional workshop on the management of wild and planted agarwood taxa held in Assam, from the 19th to the 23th January 2015. Participants included representatives of most Asian agarwood range States.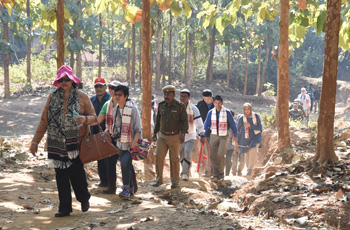 Visit to the Ajmal Agarwood Plantation Modertoli & Jabrakhowa
Participants also undertook a two-day field trip to visit agarwood plantations and home gardens in rural Assam. They were able to discuss with local women working to extract agarwood from plantation-grown wood, and a local enterprise that extracts agarwood oil from agarwood chips.
On visiting various agarwood plantation sites in Assam during the field trip, the Indian CITES Management Authority, Mr Vinod Ranjan, expressed satisfaction in the system employed by the Government of Assam for the harvesting of agarwood plantations and the chain of custody, and he indicated that CITES export permits would be able to be issued accordingly.
Presentations were made by the ITTO and CITES secretariats, the range States, and experts on agarwood production and trade. Participants formed two working groups to consider the sustainable management of agarwood in natural forests and plantations.. Workshop participants agreed on the following recommendations that will be considered at the upcoming meeting of the Plants Committee (PC22, Georgia, 15-19 October, 2015) and as draft decisions during the 17th meeting of the Conference of the Parties (CoP17, South Africa, October, 2016):
There is no current need to amend the guidance on non-detriment findings for agarwood.
Where possible, range States should be encouraged to generate data on Aquilaria and Gyrinops species in addition to Aquilaria malaccensis.
Range States with small populations of agarwood-producing species in the wild and which do not allow commercial use from the wild should be encouraged to generate, record and compile biological, ecological and law-enforcement information on these populations for future use in management and recovery programmes.
Plantation programmes should be encouraged to contribute to the recovery of agarwood-producing populations in the wild, involving local communities to the extent possible.
The vegetative propagation of agarwood-producing species should be studied as a possible means of reducing pressure on the harvesting of agarwood seed and seedlings in natural forests.
Indonesia and Malaysia, which are currently exporting agarwood harvested in the wild, should continue using the system of voluntarily established national export quotas, and they should continue to conduct regular forest inventories.
The illegal harvesting and poaching of agarwood-producing populations in the wild should be addressed.
Range States should cooperate to build capacity in forest law enforcement to ensure the protection of agarwood-producing trees in the wild.
The identification of agarwood products in trade remains challenging. The amended glossary on agarwood, when agreed by the Plants Committee, should be made available to range States to assist in the identification of agarwood products in trade.
The management of plantations and natural forests should be coordinated to ensure the genetic diversity and vigour of agarwood-producing populations and the conservation of wild populations.
Those range States that do not have policies on artificially propagated agarwood trees should be encouraged to develop such policies.
Where planters and owners have properly registered their plantations, and a verification system is in place, planters and owners could be allowed to export if national legislation permits.
Range States should be encouraged to offer incentives (e.g. a waiving of fees or improved taxation arrangements) to planters for registering their plantations.
Range States should promote the sustainable production and trade of agarwood, especially through the coordinated sustainable management of agarwood plantations and the conservation and sustainable management of agarwood-producing trees in the wild.
Range States and agarwood producers should develop networking to enable the sharing of technologies as well as agarwood planting materials.
Range States should be encouraged to make use of improved planting stock (using germplasm collection materials) in enrichment planting in natural forests to help maintain and increase the genetic diversity of wild populations.
Range States should be encouraged to implement the above-mentioned recommendations, seeking assistance where necessary, including from the ITTO–CITES Programme by submitting project proposals for possible approval and funding.
Background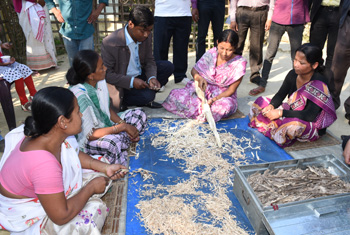 Woodchip production and oil production cottage
Agarwood is a resinous wood that forms in species of Aquilaria, Gyrinops and several other genera native to Southeast Asia. These species produce a dark aromatic resin in response to infection by a type of fungal mould. The resin-embedded wood, called agarwood, is highly valued for its fragrance and is used to produce incense, perfumes and various other products. Prices of up to US$2 million per kg of woodchips have been recorded for the highest-quality agarwood.
Aquilaria malaccensis, the primary source of agarwood, was listed in Appendix II of the Convention on International Trade in Endangered Species of Wild Fauna and Flora (CITES) in 1995. All other agarwood-producing species of the genera Aquilaria and Gyrinops were listed in Appendix II in 2004, and their listings entered into force on 12 January 2005.
Over the years, range States and importing countries have made significant progress in implementing CITES in relation to agarwood-producing tree species. The secretariats of CITES and the International Tropical Timber Organization (ITTO), and the Ministry of Environment, Forests and Climate Change of the Government of India, hosted a workshop on agarwood management in Guwahati, India, in January 2015 with the aim of making further progress on:
the management and conservation of agarwood-producing species;
the formulation of non-detriment findings;
the adoption of management strategies that integrate the overall management of agarwood-producing natural forests with plantations of agarwood-producing species; and
strengthening the agarwood stakeholder communication network.