For use of the media only;
not an official document.
JOINT PRESS RELEASE
15-year-old named winner of World Wildlife Day 2020 International Youth Art Contest
Tiarn Garland, impressed judges with her poignant rendition of a koala in the midst of the devastating Australian bushfires
Geneva/New York/Washington DC, 3 March –Australian youth artist Tiarn Garland, 15, was named the winner of the World Wildlife Day 2020 International Youth Art contest. Comprised of the CITES Secretariat, the International Fund for Animal Welfare (IFAW), and the United Nations Development Programme (UNDP), the jury announced the winner at the United Nations Headquarters in New York, as part of the World Wildlife Day celebrations on 3 March.
Titled "Here today….but tomorrow?", Tiarn's work depicted a koala on the foreground, clinging to a lone branch as a not-so-distant bushfire ravages a forest in the background. The detailed animal and its lifelike gaze struck the jury, which chose it as this year's winner, among a high volume of quality entries to this year's contest. Tiarn was welcomed as a guest of honour at the high-level event at the UN Headquarters where she received the award.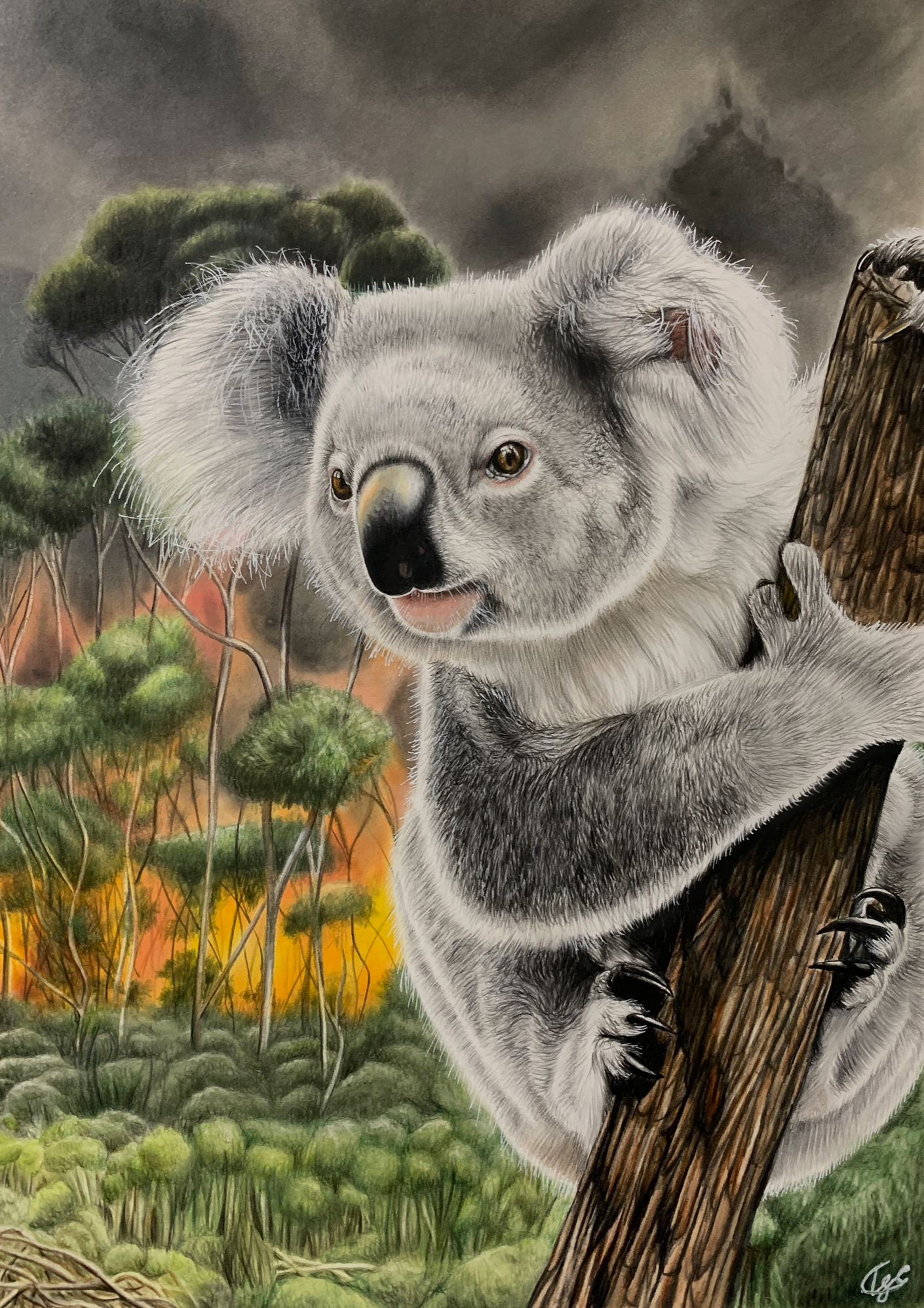 This year's Youth Art Contest followed the theme of the 2020 World Wildlife Day celebrations: "Sustaining all life on Earth". This encompassed all forms of wild fauna and flora, celebrating their roles as essential components of the world's biodiversity, aligning with the United Nations Sustainable Development Goals 14 (Life Below Water), 15 (Life On Land), 1 (No Poverty) and 12 (Ensure sustainable consumption and production patterns).
This was the second time an International Youth Art Contest was held to mark World Wildlife Day. Nearly 200 entries from over 20 countries were received. The jurors picked the winner from an exceptional roster of 13 finalists.
The panel of jurors included:
Azzedine Downes, President and CEO of IFAW
Midori Paxton, Head of Biodiversity and Ecosystems at UNDP
Ivonne Higuero, Secretary-General of CITES
Monica Medina, Founder and CEO of Our Daily Planet
Maddy Paice, IFAW Youth Ambassador
Kathleen Rodgers, President of Earth Day network
Jim Toomey, Syndicate Cartoonist of Sherman's Lagoon
"In November 2019, dozens of bushfires erupted across Australia and burned uncontrollably for months destroying millions of acres of valuable wildlife habitat. Billions of animals perished in the devastating blazes. This heart-breaking loss included some of our most iconic wildlife species – in particular tens of thousands of precious koalas. I was inspired to draw this scene as it represents the sustainability struggle happening in my own backyard. I wanted to draw attention to the vulnerability of our native wildlife and how their lives hang in the balance. I wanted to convey how this fragile balance can be quickly destroyed – sometimes, in as such short a time as days or even hours -, and to evoke action to tackle the immediate and longer-term impacts that threaten wildlife. Sustaining life on earth means making sure all of us have the same chance to survive", said Tiarn Garland, the 2020 International Youth Art Contest Winner.
"Through a means that offers both creativity and expression, we continue to be in awe of the breadth and remarkable beauty of the artwork received from all ages from all parts of the world," said Kelly Johnston, Program Officer of IFAW. "We are inspired by the global response to this contest which so vividly reflects the natural affinity that children have for both animals as well as art. We will continue to welcome the opportunity to celebrate the rich biodiversity that surrounds us, and which so needs the critical role of youth to serve as stewards of the natural world."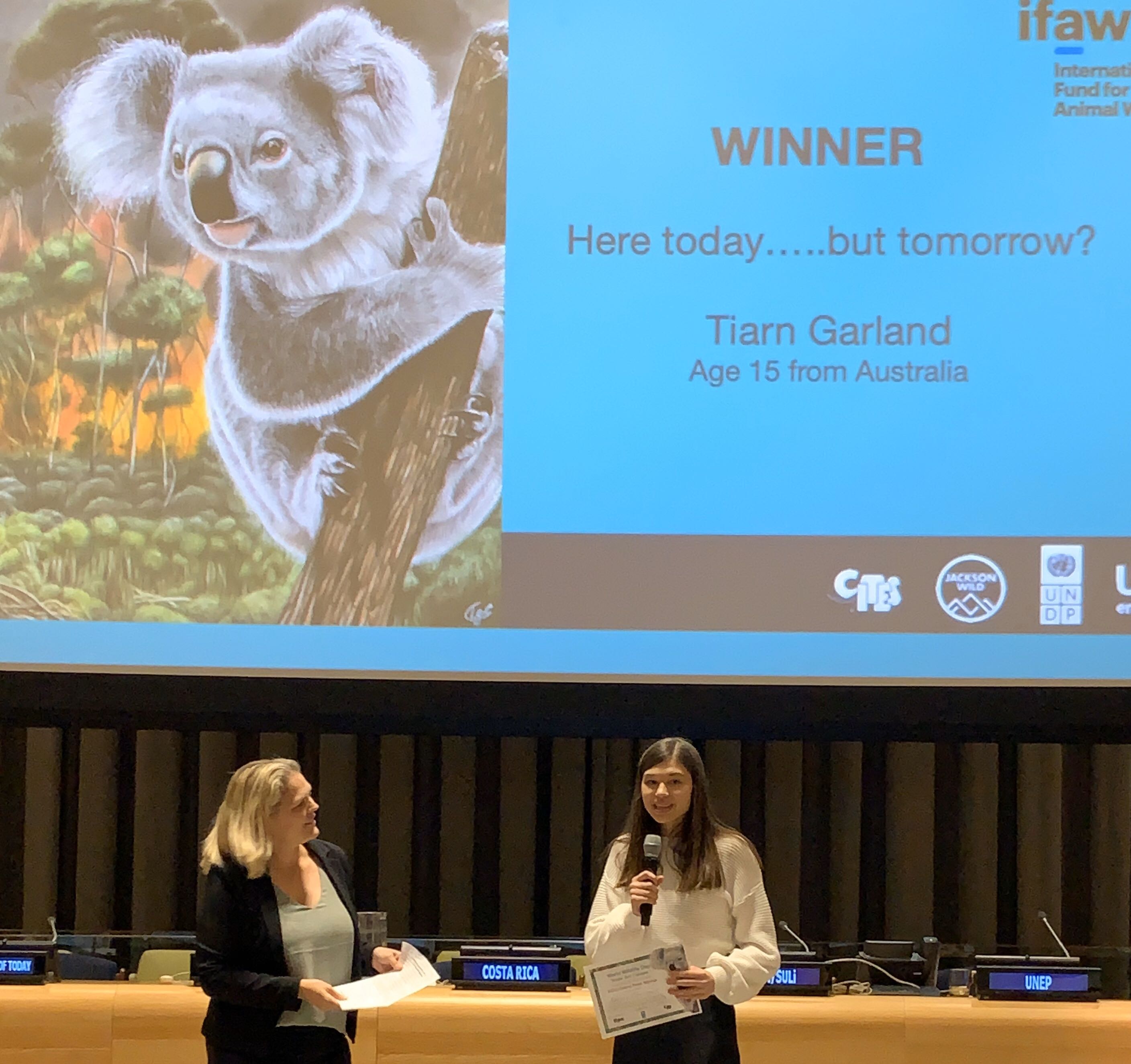 CITES Secretary-General, Ivonne Higuero said "We congratulate Tiarn for her powerful drawing and for the talent she showed in illustrating the threats that weigh on the world's biodiversity. We are proud to collaborate with IFAW and UNDP on this Art Contest. We do so in the hope of galvanizing young people and children's interest in the conservation of wild fauna and flora and their habitats in all their diversity. We thank Tiarn and all participants in this year's contest for their work and commitment. We believe they will inspire others and that their art will help strengthen the bonds between youth, wildlife and the world's biodiversity."
"Tiarn's artwork is extremely powerful. It captures the theme of this year's World Wildlife Day and shows how the climate crisis and nature crisis are directly interlinked," said Midori Paxton, head of Biodiversity and Ecosystems at UNDP. "Frequent heatwaves and wildfires represent some of the most pressing threats to biodiversity. The plight of the koala as depicted by Tiarn symbolizes these growing threats. Many small endemic species such as mouse-size marsupial dunnarts are also on the brink of extinction because of the Australian fires. We are facing a planetary crisis whose solution requires integrated approaches that tackle both climate change and biodiversity loss together."
Celebrated annually, World Wildlife Day was established by a 2013 resolution by the United Nations General Assembly, marking the day of signature of the CITES Convention. The CITES Secretariat is its principal facilitator. Since its proclamation, the day has become one of the most important global annual events specifically dedicated to wildlife, with annual high-level events at the UN Headquarters in New York and Geneva.
The winning artwork as well as all entries are viewable on the Flickr page of World Wildlife Day and on the IFAW website.
For more information and to arrange interviews, please contact:
IFAW: Rodger Correa at +1 202 834 6637 or [email protected]
CITES: Francisco Pérez at +41 22 917 1447 or [email protected]
UNDP: Sangita Khadka at +1 212 906 5043 or [email protected]
About CITES
The Convention on International Trade in Endangered Species of Wild Fauna and Flora (CITES) was signed in on 3 March 1973 and entered into force on 1 July 1975. With 183 Parties (182 countries + the European Union) it remains one of the world's most powerful tools for wildlife conservation through the regulation of international trade in over 36,000 species of wild animals and plants. CITES-listed species are used by people around the world in their daily lives for food health care, furniture, housing, tourist souvenirs, cosmetics or fashion. CITES seeks to ensure that international trade in such species is sustainable, legal and traceable and contributes to both the livelihoods of the communities that live closest to them and to national economies for a healthy planet and the prosperity of the people, in support to UN Sustainable Development Goals.
About UNDP:
UNDP partners with people at all levels of society to help build nations that can withstand crisis, and drive and sustain the kind of growth that improves the quality of life for everyone. On the ground in nearly 170 countries and territories, we offer global perspective and local insight to help empower lives and build resilient nations.
About IFAW:
The International Fund for Animal Welfare (IFAW) is a global non-profit helping animals and people thrive together. We are experts and everyday people, working across seas, oceans, and in more than 40 countries around the world. We rescue, rehabilitate, and release animals, and we restore and protect their natural habitats. The problems we're up against are urgent and complicated. To solve them, we match fresh thinking with bold action. We partner with local communities, governments, non-governmental organizations, and businesses. Together, we pioneer new and innovative ways to help all species flourish. See how at ifaw.org.